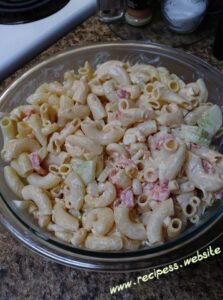 HOW TO MAKE MACARONI SALAD:
Here is The Recipe:
I don't measure anything just add ever how much I like.
I cook my mac. drai & run cold water over to cool it.
I add:
2 boiled eggs
1/2 of a onion
1/2 cucumber
2 small tomatoes all chopped up
Add vegetable & eggs to the mac
Then add salt,pepper.
To all that add about a cup I guess of mayo,about a tablespoon of yellow mustered.
Mix all together well and chell in the refrigerator for a hour or more.
Enjoy.