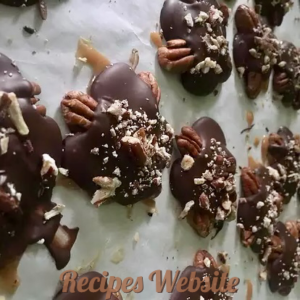 HOW TO MAKE HOMEMADE TURTLE CANDY
Turtle Candies are a chocolate store favorite that has been around for a long time. These adorable and delectable turtles, which were first introduced in 1918 and have been ready for purchase in-store over years, have kept their original recipe, which combines pecans, caramel, and chocolate.
They are surprisingly simple to make at home, using just three common components to make the popular chocolate delicacy. If you'd like to make extra to share with loved ones for the holidays or as a party favor at a baby shower or business party, just double or triple the recipe. You don't have to worry about making the turtles round or making sure some of the pecans show through. That's what makes them look special. You may eat them on your own or use them to bake cupcakes, cheesecakes, muffins, pastries, or ice cream bowls, among many others.
Because there are just a few components, each one is extremely important to the final taste, so use high-quality nuts and chocolate to get the best possible results. Using store-bought soft caramels might also be a delicious option, but homemade caramel is always the finest option. That's also the quickest and simplest way to make these tiny turtles come to life.
THE INGREDIENTS LIST:
Toasted pecan halves, I use 6-oz.
Homemade Soft caramels; you'll need 12-oz, and you can also use the store-bought caramel.
8-oz.Of semisweet chocolate.
DIRECTIONS:
Step 1:
Line a cookie sheet with aluminum foil or parchment paper and spray it with cooking spray before you begin the preparation.
Step 2:
Place the pecans in groups of four. In the same way that the four legs of the turtle have four distinct points, so should the four pecans. As an alternative, you may simply arrange the nuts in tiny clusters on a baking sheet, making sure that they overlap to prevent the caramel from spilling out through gaps between the nuts.
Step 3:
Using a microwave-safe dish, heat the caramels until melted, stirring every 30 seconds, until the caramels are completely melted. If they are still stiff after the first time in the microwave, add a teaspoon of water to help soften them up a little more.
Step 4 :
Allow the melted caramel to cool down a little. and using a spoon, scoop a small amount of caramel onto each pecan cluster.
Step 5:
Using a microwave or a double boiler, melt 8-ounces of semisweet chocolate chips. And p Pour the melted chocolate over the caramel layer, allowing some to drop down the edges and push it about so that it fully covers the top of the caramel.
Step 6:
Refrigerate the baking sheet of candies for at least 30 minutes to completely set the chocolate and caramel.
Step 7:
And to serve the turtles, you should let them have room temperature for the most flavorful and rich result.
Step 8:
Enjoy them and share the recipe with your friends!