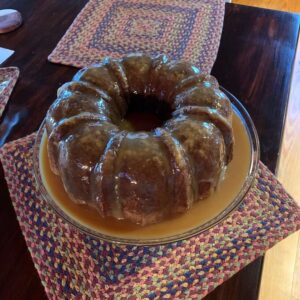 BROWN SUGAR CARMEL POUND CAKE
This luscious brown sugar pound cake may very well be the greatest cake you've ever had the pleasure of tasting! You think a simple bundt cake deserves such high praise, don't you? After just one mouthful, I'm certain you'll agree with my opinion!
Dense, extremely delicious, molasses and caramel scented pound cake is the ideal treat to prepare as the weather begins to cool. Unlike the simple Old Fashioned pound cake recipe, this one has a rich caramel-like flavor and is topped with delicious caramel icing, which makes it even more decadent and delicious!
One of Southern Living's most popular recipes, the brown sugar pound cake, is a family favorite. Personally, I believe this one is by much the leader of the list of all southern cakes! This brown sugar caramel pound cake with caramel frosting and chopped pecans is a great treat.
THIS IS THE LIST OF ALL INGREDIENTS NEEDED FOR MAKING MY GRANDMA'S BROWN SUGAR CARMEL POUND CAKE:
1½ Cups.Of softened butter.
2 Cups.Of Packed light brown sugar.
1 Cup.Of granulated sugar.
5 large eggs.
3 Cups.Of all-purpose flour.
1 t spoon.Of baking powder
½ t spoon.Of salt
1 Cup.Of whole milk.
Toffee chips, I used an 8-ounces bag.
1 Cup.Of chopped pecans.
THE CARAMEL DRIZZLE INGREDIENTS:
Sweetened condensed milk, I used a 14-ounces can.
1 Cup.Of brown sugar.
2 T spoons.Of soft butter.
½ t spoon.Of vanilla extract.
HERE IS THE DETAILED METHOD TO MAKE MY GRANDMA'S AMAZING BROWN SUGAR CARMEL POUND CAKE:
1st Step – The oven should be preheated to 325 degrees Fahrenheit and a 12-cup Bundt pan should be sprayed with cooking spray or greased and floured.
2nd Step – Cream the butter until it is light and fluffy. Beat in the sugars until they are light and airy.
3rd Step – At this point, you need to add the eggs one at a time, beating well after each addition, and in a medium-sized mixing basin, whisk together the flour, baking powder, and salt.
4th Step – Alternately add flour and milk to the batter, and whisk until just mixed. Toss in the toffee chips and pecans until well combined.
5th Step – Bake for 85 minutes, or until a toothpick inserted into the cake comes out clean. While baking, cover the cake with aluminum foil to keep it from over-browning.
6th Step – Let the cake cool in the pan for 10 minutes. Allow cooling fully on a wire rack before serving. Drizzle caramel over the cake once it has been allowed to cool.
THE CARAMEL DRIZZLE INSTRUCTIONS:
1st Step – Stir regularly while bringing the condensed milk and brown sugar to a boil over medium-high heat in a medium saucepan. Remove from the heat and set aside.
2nd Step – SIMMER for 8 minutes, whisking constantly, on low heat. Whisk in the butter and vanilla once the sauce has been removed from the heat. Before utilizing, allow for 5 minutes of cooling downtime.
Hope that you'll enjoy it!!!