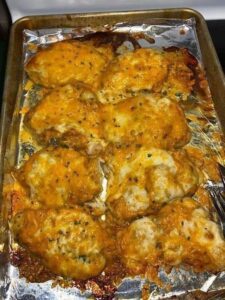 THE INGREDIENTS LIST:
For the chicken:
4 large chicken breasts (boneless and skinless).
Salt and black pepper to taste.
1 Tbsp.Of olive oil.
For the honey mustard sauce:
1/4 Cup.Of Dijon mustard.
1/4 Cup.Of honey.
2 Tbsp.Of mayonnaise.
1 Tbsp.Of lemon juice.
1 Tsp.Of apple cider vinegar.
1/2 Tsp.Of garlic powder.
For the topping:
8 slices.Of bacon.
1 Cup.Of mushrooms, sliced.
1 Cup.Of shredded Monterey Jack and Cheddar cheese blend.
PREPARATION:
1st Step
Prepare the grill for cooking over medium-high heat. In the meanwhile, sprinkle some salt and black pepper over the chicken breasts. Olive oil should be used to brush it on.
2nd Step
Cook the chicken over a grill for about six to eight minutes each side, or until the internal temperature reaches 165 degrees Fahrenheit (74 degrees Celsius) and the juices flow clear. Put to the side for some relaxation.
3rd Step
Mix the honey, Dijon mustard, mayonnaise, lemon juice, apple cider vinegar, and garlic powder together in a small bowl using a whisk. Put to the side.
4th Step
In a pan set over a heat source of medium, cook the bacon until it is crispy. Remove, then drain excess liquid on some paper towels. The bacon should be crumbled and placed aside. Sauté the sliced mushrooms in the same skillet over medium heat until they have developed a golden brown color and are soft.
5th Step
After the chicken has been grilled, place the breasts on a baking sheet, and then start preheating the broiler in the oven. Once the broiler is hot, you can begin putting the meal together.
6th Step
On top of each chicken breast, apply a coating of honey mustard sauce, and then place a serving of sautéed mushrooms on top of each honey mustard-coated chicken breast.
7th Step
After evenly sprinkling the shreds of cheese over the mushrooms, move the baking sheet to the broiler for one to two minutes, or until the cheese is melted and bubbling. After removing from the oven, finish by scattering the crumbled bacon over the surface of the dish.
Alice Springs Chicken, inspired by Outback Steakhouse, is a culinary masterpiece, offering layers of flavor and a perfect balance of textures. Whether served with a side of vegetables or a fresh salad, this dish is sure to be a hit at any gathering. Embrace the bold flavors and hearty goodness of Alice Springs Chicken, and savor the taste of this inspired classic.