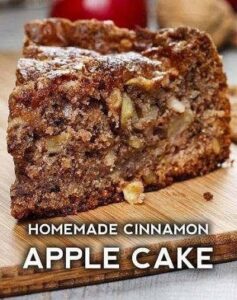 HOW TO MAKE APPLE CINNAMON CAKE: A WARM AND COMFORTING DESSERT DELIGHT
Apple cinnamon cake is the ultimate treat that exemplifies the warm and comforting tastes of autumn. Apples, cinnamon, and cake are the perfect combination. This delectable cake is a pleasure that can be enjoyed at any time of the year thanks to its combination of the warm and comforting flavors of cinnamon and the sweet perfume of apples.
The Apple Cinnamon Cake is a sweet treat that will warm your heart and bring the cozy scents of autumn right to your dinner table. This cake is likely to be a hit no matter how you choose to serve it, whether as a light snack in the afternoon or as a sweet finish to a meal with the whole family. You may enjoy it in the company of your loved ones and close friends, or you can take some time for yourself to cherish a peaceful moment with a cup of tea and a piece of this lovely dessert.
INGREDIENTS YOU'LL NEED:
For the Apple Cinnamon Cake:
• 2 Cups.Of all-purpose flour
• 1 1/2 Tsp.Of baking powder
• 1/2 Tsp.Of baking soda
• 1/2 Tsp.Of salt
• 2 Tsp.Of ground cinnamon
• 1/2 Tsp.Of ground nutmeg (optional)
• 1/2 Cup.Of unsalted butter, softened
• 1 Cup.Of granulated sugar
• 2 large eggs
• 1 Tsp.Of pure vanilla extract
• 1 Cup.Of unsweetened applesauce
• 1 and 1/2 Cups.Of peeled, cored, and chopped apples (about 2 medium-sized apples)
For the Cinnamon Sugar Topping (Optional):
• 2 Tbsp.Of granulated sugar
• 1 Tsp.Of ground cinnamon
For Ingredients And Complete Cooking Instructions Please Head On keep on Reading (>)