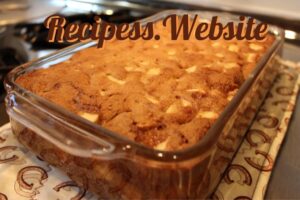 APPLE FRITTER CAKE
With this Apple Fritter Cake, your whole house will smell like fall. It takes very little effort to prepare, and the result is mouthwateringly delicious. It is without a doubt one of the most delicious autumn desserts!
Sweet, light, And super DELICIOUS. This Apple Fritter Cake is the ideal option for a simple dessert that is sure to impress a lot of people. The base is a cake that is airy and absolutely moist, the topping is an apple streusel that is sweet, cinnamon-brown sugar apple streusel that is the tastiest topping, and the glaze has a little bit of a crunch to it like that of an apple fritter. This is a meal that will please everyone!
THE INGREDIENTS LIST:
THE CAKE BATTER INGREDIENTS: 
2 whole eggs.
2 Tsp.Of vanilla extract.
350 milliliters.Of milk.
1 Cup.Of granulated sugar.
3 Cups.Of cake flour.
1/4 Tsp.Of salt.
4 Tsp.Of baking powder.
1/2 Cup.Of melted butter.
AND FOR THE TOPPING, YOU'LL NEED:
About 4-5 apples, peeled and diced.
Softened butter, I used 1 cup.
1 Cup.Of brown sugar.
2 Tbsp.Of flour.
1 Tbsp.Of ground cinnamon.
FOR MAKING THE GLAZE, YOU'LL NEED:
2 Cups.Of powdered sugar.
7 Tbsp.Of whole milk.
1 Tsp.Of vanilla extract.
THIS CAKE RECIPE IS VERY SIMPLE TO MAKE! THE STEPS TO CREATING AN APPLE FRITTER CAKE ARE AS FOLLOWS:
Step 1 – Turn the oven on to 350 degrees Fahrenheit and let it preheat.
Step 2 – To make the batter, start by whisking together all of the ingredients (save for the melted butter) until they are completely incorporated.
Step 3 – Add the melted butter in a slow and steady stream until it is completely incorporated.
Step 4 – Put the cake batter into a 9×13 pan that has been buttered. The apples should next be peeled and cut into cubes.
Step 5 – To make the topping, combine all of the ingredients in a separate dish (except for the apples). Mix the apples in until they are spread out evenly.
Step 6 – Place this topping on top of the cake batter and use a knife to gently swirl it about and incorporate little amounts of it into the cake batter in various places.
Step 7 – Bake for 50-60 minutes. After that, let the cake cool for about 20 minutes (or more).
Step 8 – While the cake is cooling, mix the ingredients for the glaze together using a whisk.
Step 9 – After drizzling the glaze over the cake, cut it into pieces and serve it up.