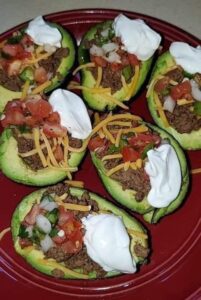 THE INGREDIENTS LIST:
4 ripe avocados, sliced thinly.
8 small tortillas (corn or flour, according to preference).
1 Cup.Of cherry tomatoes, halved.
1/2 red onion, thinly sliced.
1/2 Cup.Of fresh cilantro leaves.
1 jalapeño, thinly sliced (optional for added heat).
1 lime, cut into wedges.
Salt and pepper to taste.
Olive oil for drizzling.
PREPARATION METHOD:
1st Step
Cut the avocados carefully in half, remove the pit, and then carefully scoop out the flesh using a spoon. Cut the halves of the avocado into uniformly thin and wide slices.
2nd Step
Warm up a griddle or a pan that doesn't stick over medium heat. Warm the tortillas for about ten to fifteen seconds on each side, or until they become flexible. If you want to keep them warm, you should stack them on a plate and cover the platter with a clean dish towel.
3rd Step
Spread a good quantity of sliced avocados on the surface of each tortilla. Make sure that they are spaced out evenly, and remember to leave some space around the borders for the toppings.
4th Step
On top of the avocado, equally disperse the cherry tomatoes that have been half, the red onion that has been cut thinly, the fresh cilantro leaves, and the jalapeno slices, if using.
5th Step
A spicy kick may be added to each taco by squeezing fresh lime juice over it. The desired amount of salt and pepper should be sprinkled on top. To add an additional layer of richness, drizzle just a little bit of olive oil over the dish.
6th Step
Fold each taco in half using a gentle folding motion to create a wonderful bundle of flavors. For a presentation that is both appealing and appetizing, the tacos should be served on a dish and decorated with more lime wedges and cilantro sprigs.
RECIPE TIPS:
To add protein, consider including grilled chicken, black beans, or tofu as additional toppings.
Customize your tacos with extras like shredded cheese, salsa, or a dollop of sour cream.
For a gluten-free option, use corn tortillas or lettuce leaves as a wrap substitute.