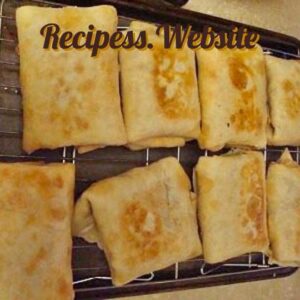 BAKED CHICKEN CHIMICHANGAS
These baked chicken chimichangas are a better option for your health than the fried version, but they still have that wonderfully crunchy texture from being baked. These chimichangas are ideal for making use of any leftover chicken and may be baked, prepared in an air fryer, or if you have a desire, deep-fried.
If you're anything like me, you usually preserve the leftovers from meals, and you have such great expectations and resolve to actually eat those leftovers at some point in the future. And then, while I'm cleaning out the refrigerator, there are all of them just where I left them.
This is one of those recipes that you may use to truly make use of the food that has been left over. I originally created this recipe to be served with the leftovers of my Mexican Chicken, but I've also revealed how to make really savory chimichangas with just plain shredded chicken in case you choose to use that instead. I kept this recipe simple by just using chicken and cheese; however, I have included a list of potential additional add-ins in case you want to take these to the next level!
THE INGREDIENTS LIST:
6 small flour tortillas.
3 Cups.Of cooked shredded chicken.
3/4 Cup.Of shredded « Monterey Jack » Cheese.
3/4 Cup.Of shredded « Cheddar cheese ».
3 Large spoons.Of melted butter.
FOLLOW THESE DIRECTIONS TO MAKE YOUR baked chicken chimichangas NOW!!
1 – Turn the temperature up to 400 degrees in the oven. Prepare a large baking sheet with a rim by lining it with parchment paper or aluminum foil and setting it aside.
2 – In a low-small-mixing dish, combine the Monterey Jack cheese and the Cheddar cheese.
3 – Wrap tortillas in a moist paper towel and heat them in the microwave for approximately 20 to 25 seconds, or until they become soft and flexible.
4 – Following that, drain the Mexican shredded chicken of any extra liquid and set it aside.
5 – In the middle of one tortilla, sprinkle some of the cheese mixtures, then add approximately a third of a cup's quantity of the chicken, and finish it off with another sprinkle of cheese.
6 – After folding the edge closest to you over the top of the filling, fold in the sides to the right and left, and then continue rolling up the filling.
7 – Place the dough, seam-side down, on a baking sheet that has been prepared. Proceed in the same manner with the remaining tortillas.
8 – Spread melted butter or vegetable oil over the surface of each chimichanga. Bake for 25 to 30 minutes, until the bread, is crisp and golden brown.
9 – To finish, you can add your preferred toppings, then dig in and enjoy!