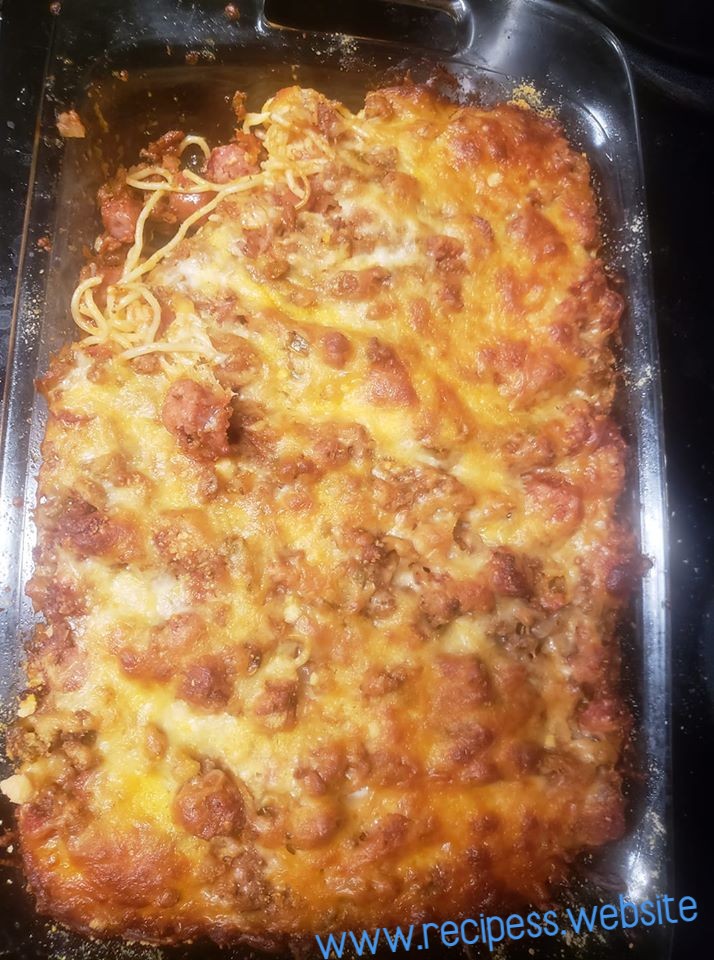 12 oz spaghetti
1, 28 oz jar prepared spaghetti sauce
1 lb ground beef, lean
1/2 c diced green pepper
1/2 c diced onions
1/2 c grated carrots – I didnt use carrots
1 tsp italian seasoning
1 clove garlic, minced
8 oz cream cheese
1/2 c parmesan cheese, grated
1 c mozzarella cheese, shredded
I actually forgot to add creme cheese lol.I did add more like tablespoon of Italian Seasoning, Accent, Lawry's Seasoning salt, Lawry's Casero Adobo Seasoning with Pepper, teaspoon of sugar and Conecuh Original Smoked Sausage. Feel free to add more of the cheeses. I didnt measure them.
Absolutely delicious and easy. Next time I will add the creme cheese.
1. Cook spaghetti noodles according to directions on packet and drain. Add cream cheese while noodles are hot and mix throughly.
2. Next, brown the ground beef, green peppers, onions, grated carrots garlic and seasoning in pan. Drain, put back into pan and stir in spaghetti sauce.
3. In a pyrex 9 x 13 baking dish spray lightly and spread a small amount of hamburger mixture on bottom. Next put spaghetti on top of sauce and then add rest of hamburger mixture. Sprinkle your parmesan cheese and then mozzarello cheese. Bake in 350 degree oven for 30 minutes until bubbly. Enjoy!!!!!!