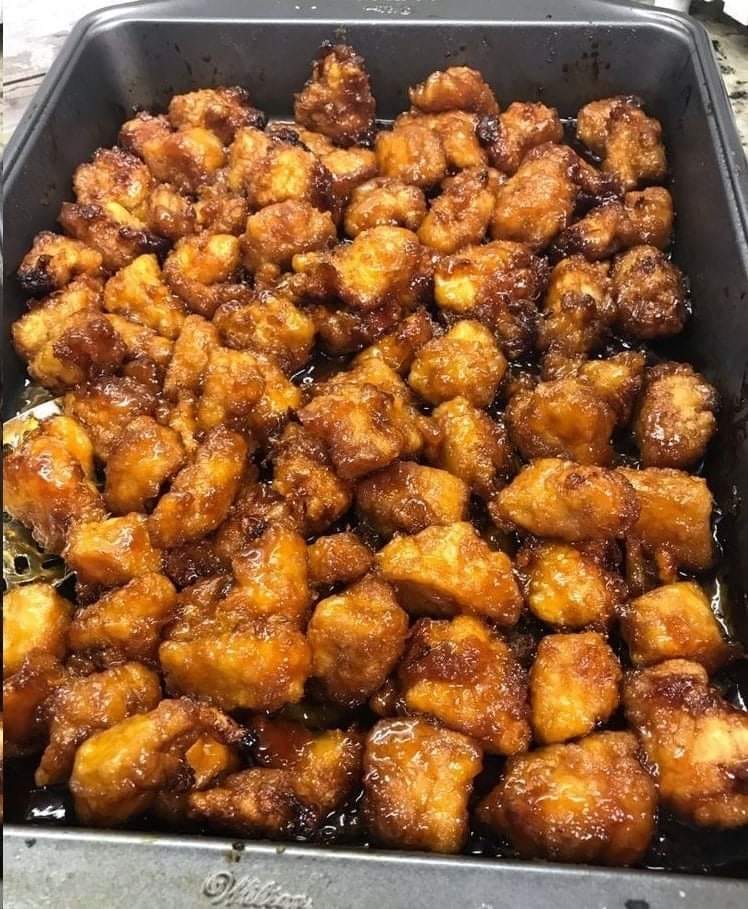 THE INGREDIENTS LIST:
1.5 pounds.Of boneless, skinless chicken breasts, cut into bite-sized pieces.
1 Cup.Of all-purpose flour.
1 Tsp.Of salt.
1/2 Tsp.Of black pepper.
2 large eggs, beaten.
Cooking spray or vegetable oil, for greasing.
FOR THE SWEET AND SOUR SAUCE:
1/2 Cup.Of ketchup.
1/4 Cup.Of low-sodium soy sauce.
1/4 Cup.Of honey.
1/4 Cup.Of rice vinegar.
2 Tbsp.Of brown sugar.
1 Tbsp.Of cornstarch.
1 Tsp.Of grated fresh ginger.
2 cloves garlic, minced.
1/4 Tsp.Of red pepper flakes (optional, for a spicy kick)
Pineapple chunks and bell peppers (assorted colors), for garnish (optional)
PREPARATION:
1st Step:
Lightly spray or oil a baking sheet and preheat the oven to 425 degrees Fahrenheit (220 degrees Celsius).
2nd Step:
Mix the all-purpose flour, salt, and black pepper in a wide, shallow dish. The chicken should be dipped in the beaten eggs, then dredged in the flour mixture and the excess flour is shaken off. Spread the coated chicken out in a single layer on the baking sheet.
3rd Step:
Bake the chicken for 20-25 minutes, or until it is golden and cooked through, in a preheated oven. To achieve consistent browning, turn the chicken pieces over halfway through baking.
4th Step:
Mix the ketchup, low-sodium soy sauce, honey, rice vinegar, brown sugar, cornstarch, ginger, garlic, and red pepper flakes (if using) in a small saucepan until well combined. Stirring frequently, bring the mixture to a simmer over medium heat. Take it off the heat.
5th Step:
After the chicken has finished cooking, place it in a large bowl. Toss the chicken pieces lightly with the sweet and sour sauce until they are all uniformly coated. Pineapple pieces and bell peppers may be added to the dish for color and taste.
6th Step:
Place the baked sweet and sour chicken on a dish and top with extra pineapple and bell peppers. The combination of the delicate chicken and the tangy-sweet sauce is tempting; serve it hot with steamed rice or noodles.