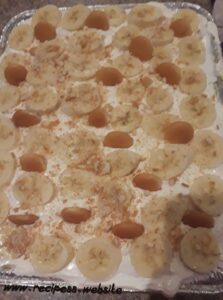 HOW TO MAKE BANANA PUDDING POKE CAKE:
Yellow cake mix ( cook as directed, lrg box of banana pudding ( make as directed)
Whipped cream
Nilla waffers
Once the cake has cooled use the end of a wooden spoon to poke holes all over the cake.
Put chilled pudding on top, the bananas and whip cream.
Put some bananas on top. Crush some of the wafers and sprinkle on top. Place a few whole wafers for decoration.
ENJOY.