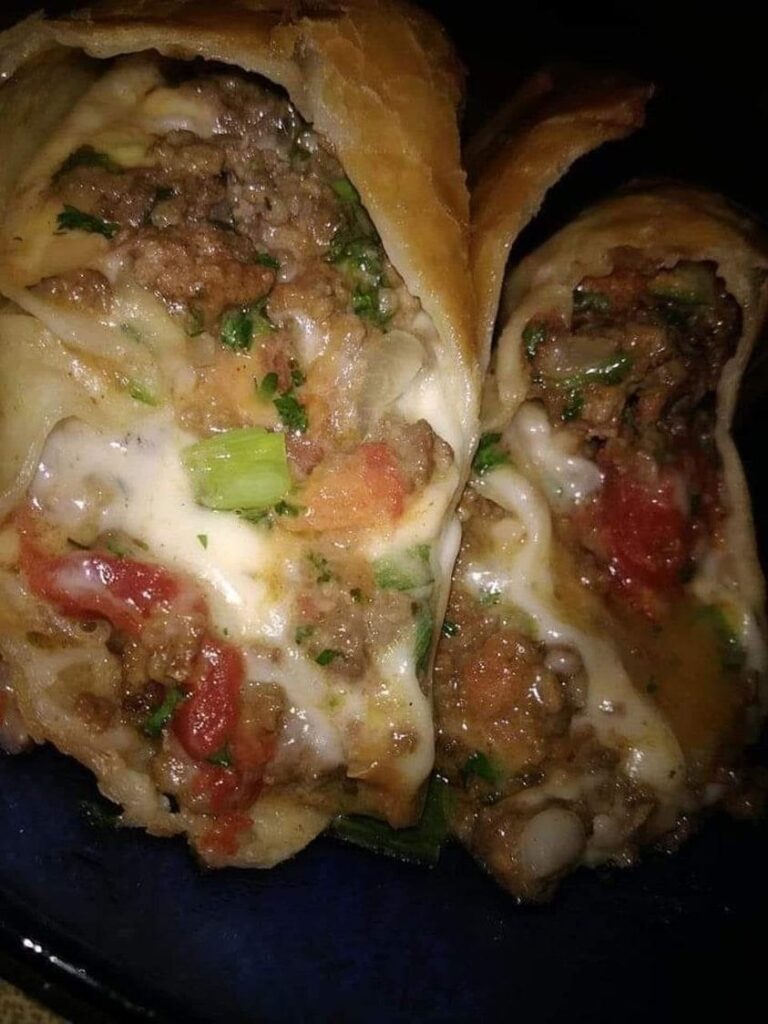 THE INGREDIENTS NEEDED:
FOR THE FILLING:
Approx. 500 grams.Of ground beef.
1 small chopped onion.
2 garlic cloves – minced.
1 Tsp.Of ground cumin.
1 Tsp.Of chili powder.
1/2 Tsp.Of paprika.
Salt and pepper to taste.
1 Cup.Of shredded cheddar or Monterey Jack cheese.
FOR ASSEMBLY:
4 large flour tortillas.
Vegetable oil for frying.
Additional shredded cheese for topping.
Toppings of your choice (sour cream, guacamole, salsa, shredded lettuce, diced tomatoes, etc.).
PREPARATION:
1st Step
Brown the ground beef in a large pan over medium heat, breaking it up with a wooden spoon as it cooks. Continue cooking until the steak is done and the onion is transparent, then add the onion and garlic.
2nd Step
Season the meat with salt, pepper, paprika, chili powder, and ground cumin after it's finished cooking. Coat the meat evenly with the seasonings by stirring carefully.
3rd Step
Add two to three more minutes of cooking time so the flavors can combine. Take the filling out of the hot pan and let it cool down a little.
4th Step
Spread out a wheat tortilla and fill it with beef filling, using as much as you want. Shred some cheese and sprinkle it on top. To make a stable chimichanga, fold in the tortilla's sides and roll it up from the bottom.
5th Step
Deep fry or deep skillet: heat vegetable oil to 350 degrees Fahrenheit (175 degrees Celsius). Carefully drop the completed chimichangas into the oil, seam side down.
6th Step
Fry them for a couple of minutes on each side, or until they reach the desired color and crispiness. Take them out of the oil with a slotted spoon and let them dry on paper towels.
7th Step
Hot Beef and Cheese Chimichangas should be served immediately. Sprinkle with extra cheese and your choice of condiments, such as sour cream, guacamole, salsa, shredded lettuce, sliced tomatoes, etc.
Beef and Cheese Chimichanga is a delectable Mexican dish that offers a delightful combination of flavors and textures. With a crispy exterior, savory beef filling, and a variety of customizable toppings, it's a perfect choice for a satisfying meal that captures the essence of Mexican cuisine. Enjoy this indulgent treat and explore the world of Mexican flavors in the comfort of your own kitchen.