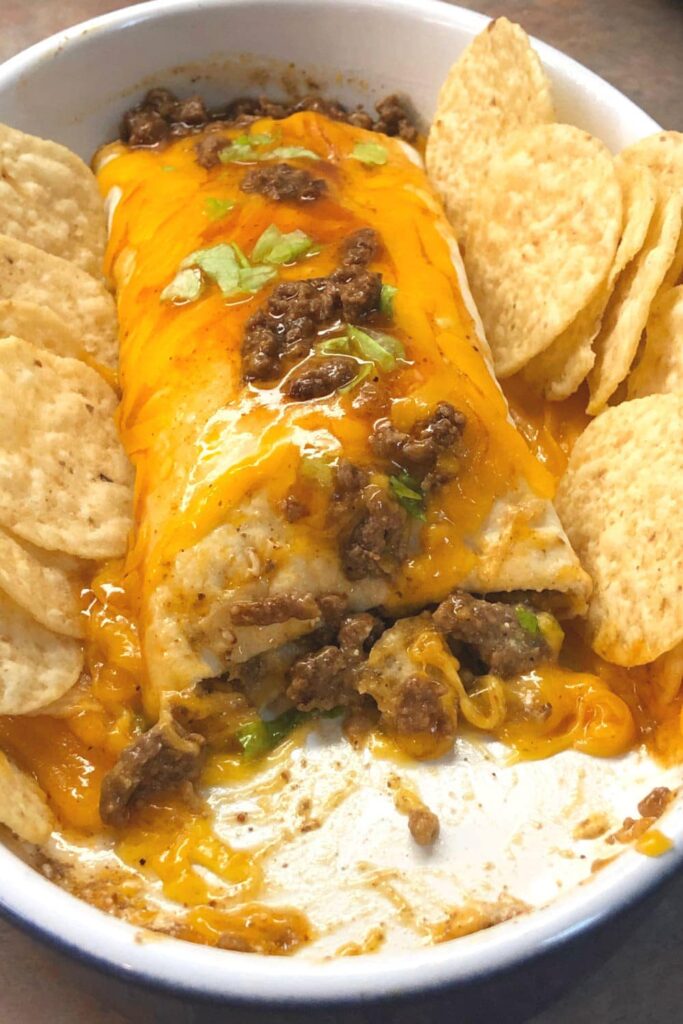 THE INGREDIENTS LIST:
For the filling:
1 Lb.Of ground beef.
1 small chopped onion.
minced garlic; I used 3 cloves.
1 large can.Of black beans; (15-oz).
1 small can.Of diced green chilies.
1 Tsp.Of ground cumin.
1 Tsp.Of chili powder.
Salt and black pepper to taste.
For the enchilada sauce:
2 Cups.Of red enchilada sauce (store-bought or homemade).
For assembling:
12 small corn tortillas.
2 Cups.Of shredded Mexican blend cheese.
Chopped fresh cilantro for garnish.
Sliced jalapeños (optional, for added heat).
PREPARATION:
1st Step
Cook the ground beef in a large pan over medium heat until it has a browned appearance. Remove all of the superfluous fat.
2nd Step
In the same pan in which you cooked the meat, add the onion and garlic that have been chopped and minced respectively. Continue to cook the onion for another two to three minutes, until it becomes transparent. Mix in the chopped green chilies, chili powder, ground cumin, salt, and black pepper. Continue to cook for a total of 2 minutes.
3rd Step
After the black beans have been drained, add them to the skillet and stir the mixture until all of the ingredients are thoroughly incorporated. Please continue to simmer the mixture for another two to three minutes. Take the pan off the heat.
4th Step
If you are using a sauce that you purchased from the store, cook it in a pot over low heat. If you are creating the sauce at home, be sure to follow the recipe you choose.
5th Step
You can warm the corn tortillas up by putting them in a clean cooking towel and nuking them for 30 seconds. Meanwhile, you need to spread a very thin layer of enchilada sauce on the bottom of an oven-safe dish.
6th Step
Place some of the beef and bean mixture down the middle of a hot tortilla and fold it up. Place it in the baking dish with the seam side facing down. Carry on in the same manner with the remaining tortillas.
7th Step
After the tortillas have been folded, pour any leftover enchilada sauce over them and make sure they are all uniformly covered. Scatter the shredded cheese all over the top in a uniform layer.
8th Step
Bake in an oven that has been prepared to 375 degrees Fahrenheit (190 degrees Celsius) for about 20 to 25 minutes, or until the cheese is melted and bubbling.
9th Step
After removing it from the oven, let it stand for a few minutes before serving. If you want things spicy, add some sliced jalapenos and chopped cilantro as a garnish.