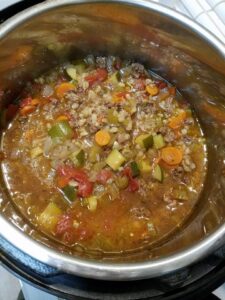 HOW TO MAKE BEEF & BARLEY SOUP CROCKPOT
This Slow Cooker Beef Barley Soup is a simple dinner that is excellent for the cooler months of autumn and winter. loaded with pieces of juicy meat and a variety of veggies.
There is nothing that compares to this Slow Cooker Beef Barley Soup in terms of providing warmth and comfort during the chilly winter months. It is comforting, substantial, and bursting with flavor, and because it is prepared in a slow cooker, the cooking process is very effortless.
There are a hundred different reasons why I truly like this soup, but the most crucial ones are that it is hearty and filling; the last thing I want is to be hungry in an hour! Also, it's full of veggies, which is one of my favorite ways to get them in, and it slow cooks for most of the day, which means that your home will smell beautiful and you won't have to worry about dinner at 5:00! Don't miss the step of browning the beef if you have a few minutes to spare since it will add a ton of flavor to the meal!
This soup is good for you! Packed with protein, complete grains, fiber, and veggies, all in one aesthetically pleasing and tasty package.
HERE IS THE INGREDIENTS LIST:
1 Tbsp.Of olive oil.
1 lb beef stewing meat.
1 small onion – finely diced.
2 Tsp.Of minced garlic.
1 Tsp.Of salt.
1 Tsp.Of Italian seasoning.
1/4 Tsp.Of black pepper.
3 large carrots – chopped.
Chopped celery; I used 2 ribs.
1/2 Cup.Of pot barley (rinsed).
2 Tbsp.Of tomato paste.
2 bay leaves.
4 Cups.Of low sodium beef broth.
Fresh chopped parsley for garnish.
PREPARATION:
Step 1
Bring a big pan up to a temperature of medium-high. After adding the oil, let it heat for one minute.
Step 2
Cook the beef over medium-high heat in batches, being sure to leave space around each piece. Take out of the pan and put in a slow cooker that's about 4-6 quarts.
Step 3
When you add onions to the saute pan and cook them over medium heat until they become translucent, the onions will absorb all of the brown pieces that are left behind by the meat. Cook for one minute after adding the garlic, salt, pepper, and Italian seasoning and stirring it in.
Step 4
On top of the meat, add the onions, carrots, celery, barley, tomato paste, and bay leaves to the slow cooker. First, give everything a good toss, and then add the beef broth.
Step 5
Cover and simmer on the lowest setting for 6-8 hours, or on the highest setting for 3-4 hours, until the veggies and barley are soft.
Step 6
If you want, stir in some fresh parsley, and then season the mixture to taste. Serve immediately!!