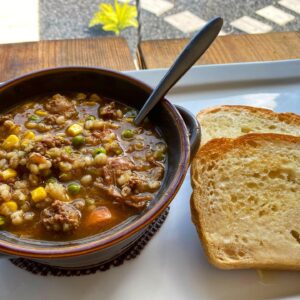 HOW TO MAKE BEEF BARLEY VEGETABLE SOUP
The beef barley soup recipe is really simple and tastes amazing. It's a whole dinner in a bowl, packed with wholesome vegetables, juicy meat, and chewy barley, all of which are included. The fact that this homemade beef barley soup can be prepared in advance and is suitable for freezing makes it the ideal meal for a family gathering.
This Beef Barley Soup is one of my favorites since it is packed to the brim with nutritious ingredients like vegetables and grains, just as all of my other go-to soups are. It is a thick and hearty barley soup that will leave you feeling thoroughly pleased and will warm you up from the inside out. It screams comfort food, like something mom used to cook, and it is excellent when served up with a side of buttermilk biscuits and a side salad!
If you often make the same meals, you can find yourself in a bit of a rut when it comes to preparing meals at home. Because it contains vegetables, this dish is not only an excellent and nutritious option, but it also has a reasonably low-calorie count. Trying out new things in the kitchen, such as ideas, tastes, and textures, is a great way to keep things exciting! This Old Fashioned Beef Barley Soup is a classic soup that has kept its charm over the years!!!
INGREDIENTS YOU'LL NEED:
1 Tbsp.Of olive oil.
A large chopped onion.
Minced garlic; I used 2 cloves
2 sliced carrots.
Rib celery: sliced.
Cooked beef; I used 2 cups.
6 Cups.Of reduced-sodium beef broth.
Canned diced tomatoes; I used a 15-oz can undrained.
A small diced green pepper.
⅔ Cup.Of barley.
1 Tbsp.Of Worcestershire sauce.
¼ Tsp.Of dried thyme.
A Pkg.Of beef gravy mix.
One bay leaf.
2 Tbsp.Of red wine.
2 Tbsp.Of fresh parsley.
salt & pepper to taste.
DIRECTIONS:
First Step
In oil, soften the onions and garlic by cooking them over medium heat until the onions are translucent.
Second Step
Toss in the rest of the ingredients, and get the pot boiling. Reduce the heat, cover the pot, and let it simmer for 40 to 50 minutes, just until the barley is cooked.
Third Step
Take off the bay leaf and serve it right away so you can enjoy it while it's still warm.