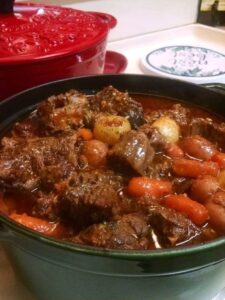 Ingredients:
Two pounds of beef stew meat diced into 1-inch chunks.
1/4 cup of all-purpose flour.
Half a cup of salt.
Half a tsp of ground black pepper.
1 1/2 cups of beef broth.
4 medium-sized carrots, thinly sliced.
3 medium-sized potatoes, cubed.
One medium-sized onion (chopped).
One stalk of celery.
One tsp of Worcestershire sauce.
One tsp of ground paprika.
One clove of garlic, minced.
One large bay leaf.
Instructions:
Step 1
First, add the diced meat to the slow cooker.
Step 2
Then, in a small bowl, combine the flour, salt, and pepper, and sprinkle this mixture over the meat in the slow cooker, and stir until the meat is evenly coated.
Step 3
After that, pour in the beef broth, then add the carrots, potatoes, onion, celery, Worcestershire sauce, paprika, minced garlic, and the bay leaf, and stir the whole thing collectively till properly combined.
Step 4
Finally, cook, covered, until the beef is tender enough to easily cut with a spoon. This can be achieved on the "Low" setting for 8-12 hours or on "High" for 4-6 hours.
Tips:
– Choose marbled cuts for tender meat.
– Sear meat for flavor.
– Don't overcook veggies.
Variations:
– Red Wine Beef Stew.
– Add spice for a kick.
– Use a variety of root vegetables.
Enjoy!!