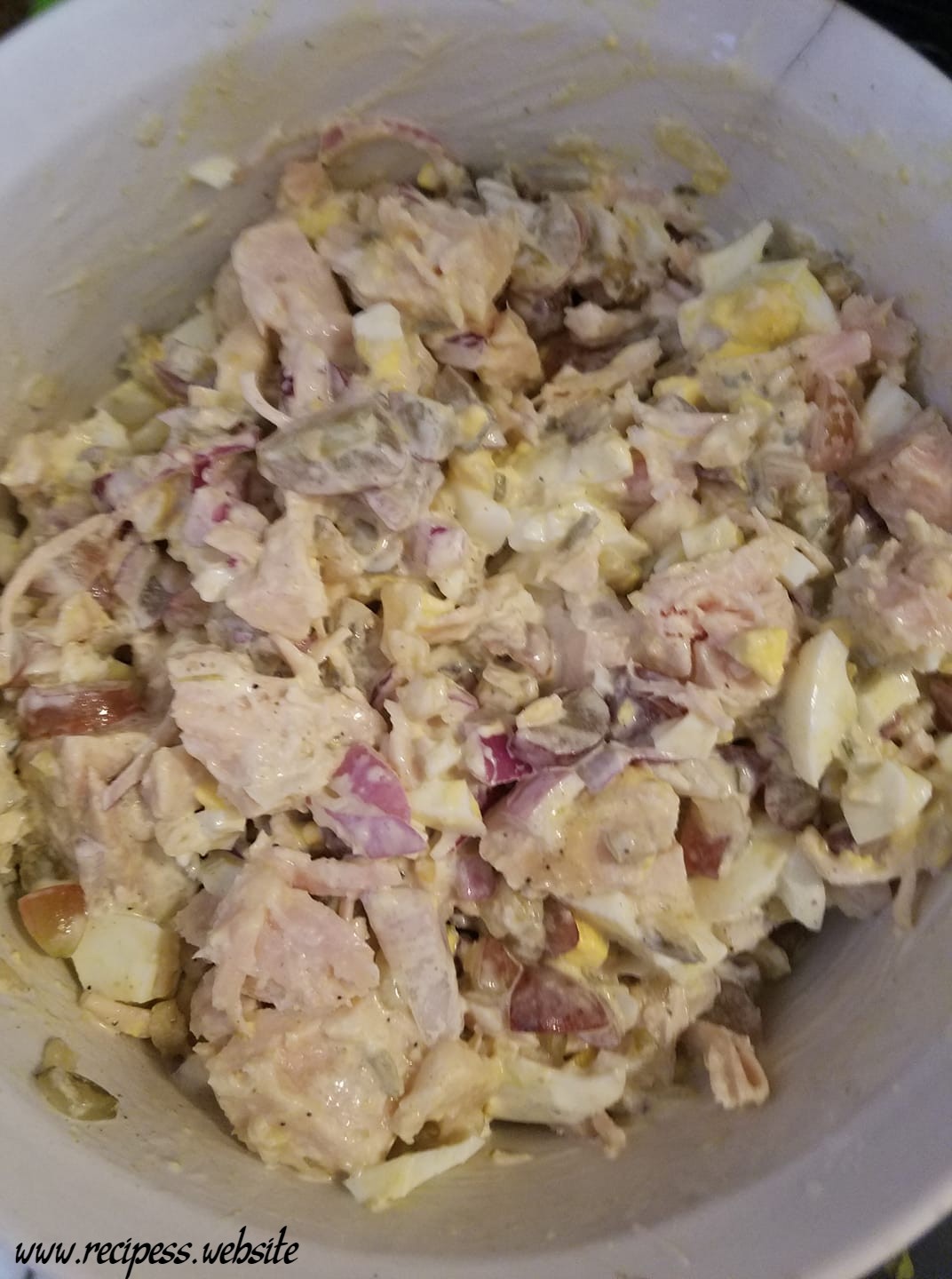 HOW TO MAKE CHICKEN SALAD?
A homemade Chicken Salad! Chicken breasts are chopped, cooked, and then mixed with a creamy dressing that is eaten within croissants, on toast, or in lettuce leaves. It's cool, flavorful, and hearty. A classic summertime recipe.
Who doesn't like a delicious chicken salad? It is the ideal make-ahead lunch for a picnic, and it is simple to adapt to your preference.
This version of chicken salad is made with tender pieces of chicken and a strong, aromatic dressing. It's nothing really complicated, only the simple ingredients that when combined create a classic lunchtime main dish.
INGREDIENTS NEEDED TO MAKE THIS CHICKEN SALAD :
4 boneless chicken breasts, I cooked them and chopped them before.
1 Cup.Of dried cranberries.
1/2 Cup.Of chopped yellow onion.
1/2 Cup.Of chopped celery.
Salt to taste.
Ground Black Pepper, to taste.
AND FOR THE DRESSING:
1 Cup.Of mayonnaise.
1/2 Cup.Of sugar.
1/4 Cup.Of white vinegar.
1 small spoon. Of salt, but you can always use more or less.
1 small spoon.Of prepared mustard.
1/4 Small spoon.Of ground black pepper.
THIS SALAD IS ONE OF THE EASIEST SALADS IN MY COLLECTION, IF YOU WANT TO TRY IT, DO EXACTLY AS MENTIONED BELOW :
Step 1:
In a large transparent bowl, I placed the cooked chopped chicken breasts, and I added the chopped yellow onion and celery.
Step 2:
I mixed it all together, and I added seasoning; sea salt, and black pepper.
Step 3:
Combine all the dressing ingredients together in a small bowl, and pour it on the chicken.
Step 4:
After that, I added the dried cranberries right when I wanted to serve it my salad.
Once, I added the cranberries and left the salad in the fridge for just 15 minutes, when I want to serve it, I'm choked!!! Everything in the bowl turned pink!!!
Step 5:
For serving, I normally served this salad with crackers, but my husband prefers to eat it on lettuce.
ENJOY YOUR CHICKEN SALAD AS A SIDE DISH FOR LUNCH, OR DINNER!! I HOPE YOU'LL LIKE IT!!