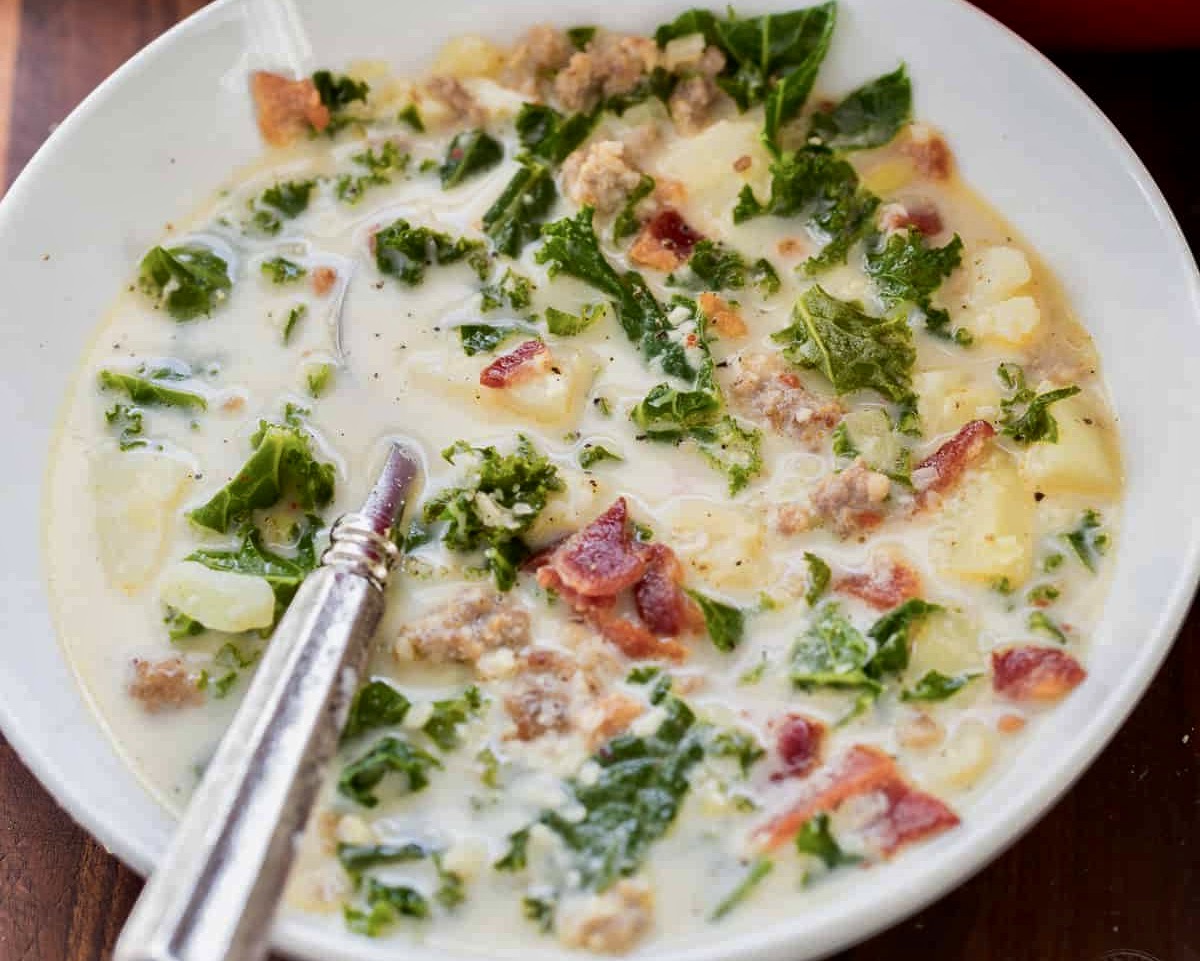 BEST GARDEN ZUBA TOSCANA OLIVE SOUP
Gluten-free, loaded with protein, and bursting with scrumptious flavor, the Zuppa Toscana Soup from Olive Garden has spicy Italian sausage, bacon, fresh kale, and russet potatoes in a thick and creamy broth. This imitation Zuppa Toscana soup is prepared in a single pot requires little effort to make and has established itself as a staple in every household's cycle of go-to meals.
This soup does not include any grains or gluten by its very nature. You may prepare a Zuppa Toscana dish that is suitable for the ketogenic diet by exchanging potatoes for cauliflower. To keep this recipe compatible with Whole 30 requirements, replace the heavy whipping cream with one can of full-fat, unsweetened coconut milk.
INGREDIENTS YOU'LL NEED:
6-ounces .Of chopped bacon.
1 Pound.Of Italian Sausage.
1 medium head garlic – minced.
1 medium onion – finely diced.
4 Cups.Of chicken broth or stock.
6 Cups.Of water.
5 medium russet potatoes – chopped into 1/4″ thick pieces.
6 cups.Of kale leaves – chopped.
1 Cup.Of whipping cream.
Salt and black pepper.
Shredded Parmesan cheese to serve.
PREPARATION:
Step 1 – Place the bacon pieces in a large saucepan or dutch oven (5.5 quarts), and cook them over medium-high heat until they are browned (5-7 mins).
Step 2 – After transferring the bacon to a dish lined with paper towels, scoop off any leftover oil, leaving about 1 tablespoon of oil in the saucepan.
Step 3 – After adding the Italian sausage and breaking it up with your spatula, continue to sauté it until it is fully cooked (5 min). Place the meat on a platter lined with paper towels.
Step 4 – Add the onion, which has been diced very finely, to the saucepan. Saute for five minutes, or until soft and golden, before adding minced garlic and continuing to cook for an additional minute.
Step 5 – Bring to a boil 4 cups of broth and 6 cups of water, then add the ingredients. After adding the sliced potatoes, continue cooking for another 13–14 minutes, or until the potatoes can be easily penetrated with a fork.
Step 6 – When the potatoes are almost done cooking, add the chopped kale and cooked sausage, and then bring the whole mixture to a simmer.
Step 7 – After stirring in one cup of cream, bring the mixture to a boil. After seasoning with salt and black pepper to taste, remove the pan from the heat. Add crumbled bacon and parmesan cheese as a garnish.