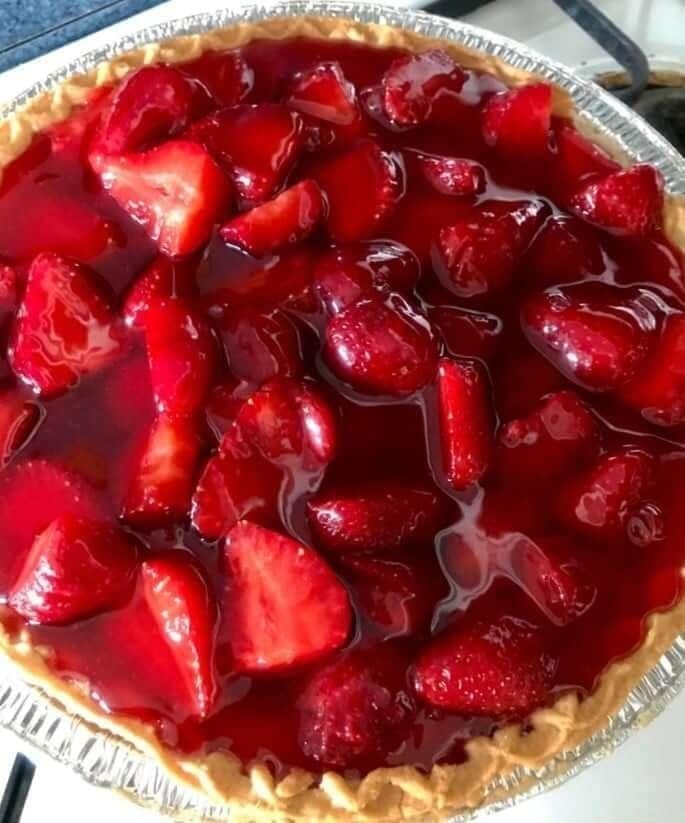 THE INGREDIENTS LIST:
• 1 pre-baked 9-inch pie crust.
• 4 Cups.Of fresh strawberries, hulled and halved.
• 3/4 Cup.Of granulated sugar.
• 2 Tbsp.Of cornstarch.
• 1/2 Cup.Of water.
• 1/2 Tsp.Of vanilla extract.
• Whipped cream for garnish (optional).
PREPARATION:
1 – Start by preparing and baking a 9-inch pie crust according to your preferred method or by using a pre-baked pie crust.
2 – Combine the granulated sugar and cornstarch in a medium saucepan. While stirring, gradually add the water to produce a uniform mixture.
3 – Stirring continuously, cook the sugar mixture over medium heat until it thickens and becomes transparent. This usually takes between 5 and 7 minutes.
4 – Remove the saucepan from the heat and incorporate the vanilla extract. Permit the mélange to slightly chill.
5 – Create an even layer of divided strawberries in the prebaked pie crust.
6 – Pour the sugar mixture over the strawberries, coating them thoroughly and ensuring that the glaze covers them evenly.
7 – Place the pie in the refrigerator for at least two hours, or until the glaze has hardened. Optionally, garnish just before serving with a generous dollop of whipping cream.
Big Boys Fresh Strawberry Pie is a culinary treasure, offering a taste of summer's bounty in every bite. The juicy, ripe strawberries, enveloped in a sweet glaze, are cradled within a flaky pie crust. Whether enjoyed on a warm summer afternoon or shared with loved ones at a special gathering, this pie is sure to be a crowd-pleaser. Embrace the vibrant flavors of fresh strawberries and savor the taste of summer in this delightful dessert.