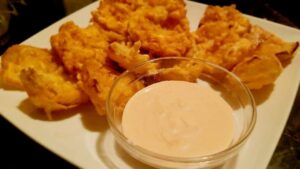 HOW TO MAKE BLOOMING QUESADILLA RING
This blooming quesadilla ring will be the talk of your gathering. Quesadillas make a great snack or dinner, but a quesadilla ring takes this easy, crowd-pleasing recipe to a completely new level.
Using tortilla shells sliced in half, filled with chicken and cheese, wrapped up, and put in a big ring. This appetizer is easy to take apart, so it's perfect for parties.
You are free to offer these quesadillas with the accompaniments and toppings of your choosing. I like having shredded lettuce, black olives, guacamole, cilantro, and sour cream as condiments. That way, anybody can add any toppings they want to their quesadilla and make it any way they please. This is not only really tasty, but it also has a stunning presentation. Because once assembled, it resembles a flower, this quesadilla is affectionately referred to as the "blooming quesadilla."
INGREDIENTS NEEDED:
2 Cups.Of Cooked Shredded Chicken.
A chopped Onion.
A chopped Red Bell Pepper.
A chopped Jalapeño.
1 Cup.Of Taco Sauce; I used the Store Bought.
20 Tortillas « Taco Size ».
3 Cups.Of Cheddar Cheese – Shredded.
3 Cups.Of Monterey Jack Cheese – Shredded.
PREPARATION:
Step 1
Turn the oven temperature up to 375 degrees F. And prepare baking sheet with parchment paper. Mix the chicken, onion, red bell pepper, jalapeno, and taco sauce together in a large bowl until everything is evenly distributed. Set aside.
Step 2
Make a cut through the middle of each tortilla. Spread about 2 teaspoons of the chicken mixture, 2 tablespoons of the Monterey Jack cheese, and 2 tablespoons of the cheddar cheese on each side of the tortilla.
Step 3
To make cones out of the tortillas, begin rolling at the edge where you cut them, and be careful not to force the contents out of the tortilla as you go.
Step 4
In the middle of the baking sheet, place a jar or glass with a wide opening. Use about thirteen tortilla cones to form a ring around the container. The tips of the cones must be centered and make contact with the jar.
Step 5
On top of the layer, sprinkle some shredded cheddar and Monterey Jack cheese. Continue in this way with the remaining cones to make two more layers, then finish with the remaining cheddar and Monterey Jack cheeses.
Step 6
Take the jar out of the hole in the middle of the ring, and bake for 15 to 20 minutes, or until the cheese has melted and the edges of the tortillas crisped.
Step 7
Place the quesadilla on a serving plate carefully. Put the dip of your choice within the ring, and then cover it with the toppings of your choice.