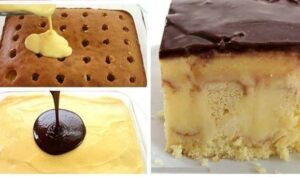 Ingredients:
One package of yellow cake mixes (along with the ingredients
mentioned in the box).
2 packages of instant vanilla pudding mix.
4 cups of milk.
One container of chocolate frosting.
Instructions:
step 1
First, prepare the cake in a 13 x 9″ pan following the instructions on the box. Once the cake is baked and cooled, take a spoon handle and evenly poke holes all over the cake.
Step 2
Whisk the milk and pudding mix together until they are thoroughly combined.
Step 3
Carefully pour the pudding mixture over the cake, ensuring that it seeps down into the holes you previously created.
Step 4
Place the cake in the refrigerator for several hours to allow the pudding to settle and set up. This will help the cake achieve a firmer and more cohesive texture.
Step 5
After that, open the frosting container by removing the foil seal from the top.
Step 6
Then, microwave the frosting for 15 seconds, then give it a good stir to ensure it is well-mixed and smooth.
Step 7
Next, repeat the process of microwaving the frosting for 15 seconds and stirring it thoroughly. Continue this cycle until the frosting reaches a pourable consistency.
Step 8
Finally, pour the pourable frosting over the pudding layer, spread it with a spatula to cover the cake completely, and refrigerate for several more hours.
Tips:
– Be gentle when poking the holes in the cake to avoid tearing or crumbling.
– Allow the cake to chill for several hours to ensure the pudding sets properly.
– Heat the chocolate frosting in short intervals, stirring in between, for a smooth and pourable consistency.
Variations:
– Chocolate Lovers: Use a chocolate cake mix instead of yellow and layer chocolate pudding between the cake and frosting.
– Raspberry Twist: Add a layer of raspberry jam or fresh raspberries between the cake and pudding for a fruity burst.
– Caramel Delight: Drizzle caramel sauce over the pudding layer before adding the chocolate frosting for a sweet and gooey treat.
– Cookies and Cream: Crush some chocolate sandwich cookies and sprinkle them over the pudding layer for added texture and flavor.
Indulge in the irresistible delight of Boston Cream Poke Cake and treat yourself to a slice of pure dessert bliss. Enjoy!!