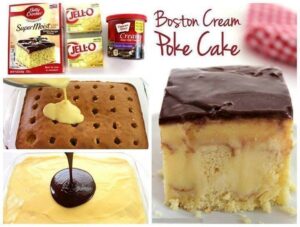 HOW TO MAKE BOSTON CREAM POKE CAKE
The Boston Cream Poke Cake is an indulgent dessert that pays tribute to the traditional Boston Cream Pie, but it is presented in a shape that is more approachable and straightforward to prepare. This delectable dessert has layers of moist yellow cake, a filling that is as smooth as custard, and a glaze that is as decadent as chocolate. Each bite is a symphony of different tastes and textures that will leave you wanting more.
This extraordinary treat, known as Boston Cream Poke Cake, combines the time-honored tastes of Boston Cream Pie with the straightforward preparation of a poke cake. The silky custard, rich cake, and decadent chocolate glaze all work together well to create a delicious dessert. This cake is guaranteed to create a lasting impression at any event, whether it's a formal celebration or a more informal get-together. Have a wonderful time devouring this divinely delicious masterpiece on its whole!
INGREDIENTS NEEDED:
For the Cake:
A yellow cake mix box (plus all the ingredients listed on the box, typically eggs, water, and oil).
For the Custard Filling:
2 Cups.Of whole milk.
4 large egg yolks.
1/2 Cup.Of granulated sugar.
1/4 Cup.Of cornstarch.
1 Tsp.Of vanilla extract.
For the Chocolate Glaze:
1/2 Cup.Of heavy cream.
1 Cup.Of semisweet chocolate chips.
For Ingredients And Complete Cooking Instructions Please Head On keep  on Reading  (>)