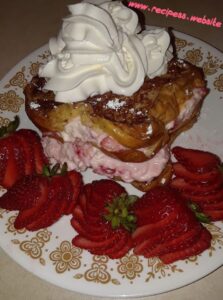 Brioche Bread French Toast Stuffed With Cream cheese And Strawberries
Topped With Powder Sugar And Reddi Whip!
I use brioche bread.
Add a little sugar to cream cheese and Some strawberries then combine set aside.
Add:
2 eggs
Vanilla extract
Cinnamon a cup of milk to a bowl with a little sugar .
This is the egg wash for the cinnamon toast you will have to measure how much sugar u want.
Cut bread to your size then add cream cheese mixture on each bread then put together well to stick then dip in egg wash then place in none stick skillet when Brown turn to the other side .
Do the same to the others your using and decorate with Powder sugar whip cream or pancake syrup.
Enjoy.