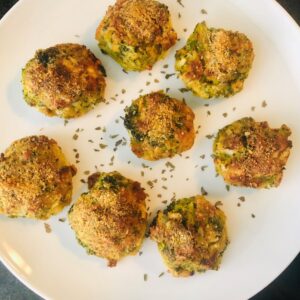 HOW TO MAKE BROCCOLI CHEESE BALLS
Broccoli Cheese Balls are an excellent option for a finger dish to serve at holiday gatherings or on game day. If you serve them as an after-school snack, your children will consider you the hippest parent in the history of parenting. I believe that these fried broccoli balls are, alongside Fried Mac & Cheese, the finest food that has ever been created for children.
The outside is made crispy with a Panko crumb coating, while the inside is loaded with three different types of cheese for a full-on cheesy flavor. The fresh broccoli has been chopped up into little pieces, and then covered in gooey, melted cheese.
You will fall head over heels in love with broccoli after trying these cheesy balls because they make broccoli look and taste so fantastic! This combination of broccoli and cheese produces an enticing appetizer that is crunchy on the exterior and lusciously satisfying on the inside!
THE INGREDIENTS LIST:
Fresh broccoli florets; I used 1½ cups.
1 Cup.Of Colby cheese – shredded.
1 Cup.Of cheddar cheese – shredded.
« Velveeta cheese », I used 4-oz cut into small pieces.
½ Tsp.Of crushed red pepper flakes.
2¼ Cups.Of Panko crumbs.
A large egg – lightly beaten.
½ Cup.Of all-purpose flour.
2 whole eggs – lightly beaten.
Vegetable/Canola oil.
PREPARATION:
1st Step – Steam the broccoli for a few minutes until it's a little softer. hop the broccoli very finely. The bits must be no larger than one-fourth of an inch. Put in a big bowl and set aside.
2nd Step – In the bowl with broccoli, add shredded cheeses, red pepper flakes, 1/4 cup of Panko crumbs, and 1 egg. Stir thoroughly.
3rd Step – Make balls out of the mixture by shaping it with your hands and using approximately a tablespoon rounded off for each ball. You need to get between 12 and 14.
4th Step – Put the balls in the refrigerator for at least half an hour after placing them on a dish. And add the flour to the basin first. Put the two eggs that have been softly beaten into a second bowl and whisk in the one tablespoon of water.
5th Step – Place the remaining 2 cups of Panko crumbs in a third bowl. Then, pour enough oil to cover the bottom of a Dutch oven or other heavy pot by approximately 2 inches.
6th Step – Increase the temperature of the oil to 375 degrees. Use a thermometer to get the best results.
7th Step – Take the broccoli balls out of the refrigerator, roll them in flour, then dip them in the egg mixture, and finally roll them in Panko crumbs.
8th Step – Fry about four balls at a time, being sure to cook them until they are golden brown on both sides.
9th Step – Immediately transfer to a plate lined with paper towels to drain. ENJOY IT!!!