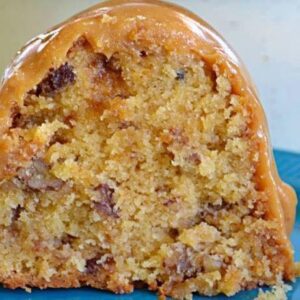 INGREDIENTS YOU'LL NEED:
FOR THE CAKE:
3 sticks.Of unsalted softened butter.
2 1/2 Cups.Of light brown sugar, packed.
5 large eggs at room temp.
3 Cups.Of all-purpose flour.
1/2 Tsp.Of baking powder.
1/2 Tsp.Of baking soda.
1/2 Tsp.Of salt.
1 Cup.Of sour cream.
2 Tsp.Of pure vanilla extract.
FOR THE CARAMEL GLAZE:
1 Cup.Of granulated sugar.
1/2 Cup.Of unsalted butter.
1/4 Cup.Of heavy cream.
1/4 Tsp.Of salt.
1 Tsp.Of pure vanilla extract.
PREPARATION:
THE METHOD TO MAKE THE CAKE:
1st Step
Turn the oven temperature up to 325 degrees Fahrenheit (160 degrees Celsius). Prepare a Bundt pan of 10 inches (25 cm) in diameter by liberally greasing and flouring the pan.
2nd Step
To make a light and fluffy mixture, cream the softened butter and brown sugar together in a large mixing bowl until the mixture is light and fluffy. It might take you a few minutes to do this. Stir well after each addition of an egg.
3rd Step
Combine the flour, baking powder, baking soda, and salt in a separate basin and whisk to combine.
4th Step
Mix the butter and sugar until fluffy, then gradually add the dry ingredients, alternating with the sour cream. Use dry ingredients first and last. Stir in the vanilla essence and mix until the ingredients are barely mixed.
5th Step
Place the cake batter in the Bundt pan. Use a spatula to even out the surface. Wait until a toothpick inserted in the middle comes out clean or with a few wet crumbs, or bake for a further 60-70 minutes in the preheated oven.
6th Step
After 15 minutes, flip the cake out of the pan onto a wire rack to finish cooling.
AND FOR MAKING THE CARAMEL ICING, FOLLOW THESE STEPS:
1st Step
Put the butter in a pot and cook it until it melts. Mix in the coarse sugar, the thick cream, and the salt.
2nd Step
Cook the mixture at a low boil for two to three minutes while stirring often. The caramel should darken and thicken, taking on a deep golden hue. Turn off the heat and add the vanilla essence to the caramel.
THIS IS THE ASSEMBLING METHOD:
1st Step
Drizzle the warm caramel glaze all over the pound cake and let it run down the edges while it's still warm.
2nd Step
Cut the Brown Sugar Caramel Pound Cake into slices and serve. Every mouthful is a satisfying union of tender pound cake and sweet caramel.