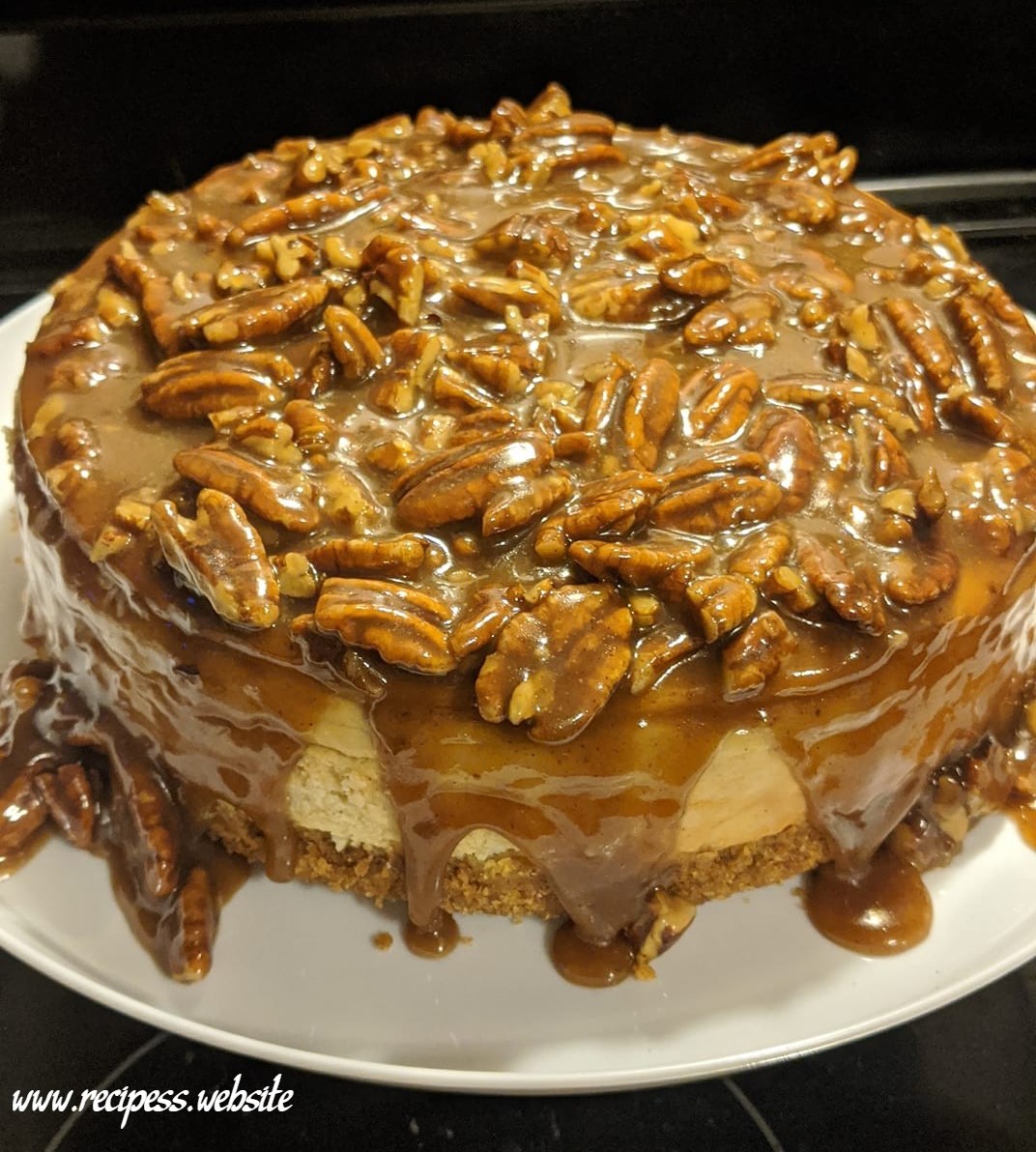 How To Make Brown Sugar Pecan Pie Cheesecake?
This brown sugar pecan pie is indulgent, sweet, and really decadent thanks to the heavy use of butter and brown sugar. I am so happy that you know how much I love cheesecake. Quite simple: The only difficult part about making this cheesecake is waiting for it to set in the fridge.
It has proven to be an extremely powerful knockout combination: I've selected two of the most impressive desserts and mixed them together!
I still can't believe this cheesecake is as delicious as it is. the finished product is coated with pieces of pecans and brown sugar From now on, all year long, this cheesecake will know you "Everything you love about Fall" Just drizzle additional caramel sauce on top of each slice AND ENJOY IT!!
INGREDIENTS:
TO MAKE THE CRUST, I USED:
1¾ Cups.Of vanilla wafer crumbs.
¼ Cup.Of brown sugar.
⅓ Cup.Of unsalted melted butter.
AND THIS IS WHAT YOU'LL NEED FOR THE PECAN FILLING:
1 Cup.Of regular sugar.
⅔ Cup.Of dark corn syrup.
⅓ Cup.Of unsalted melted butter.
2 eggs, large in size, slightly beaten.
1½ Cups.Of chopped pecans.
1 Tsp.Of vanilla extract.
AND FOR THE CHEESECAKE FILLING, I NEEDED:
Softened 24-ounces.Of cream cheese.
1¼ Cups.Of light brown sugar.
2 Tbsp.Of all-purpose flour.
4 large eggs.
⅔ Cup.Of heavy cream.
1 Tsp.Of vanilla extract.
TOPPING INGREDIENTS:
3.5 Tbsp.Of unsalted melted butter.
½ Cup.Of brown sugar.
1 Tsp.Of cinnamon powder.
¼ Cup.Of heavy whipping cream.
1 Cup.Of chopped toasted pecans.
HOW TO MAKE IT :
Step 1:
Initially, line the bottom of a 9-inch springform pan with parchment paper and put it aside.
Step 2:
Then, combine the vanilla wafer crumbs and brown sugar in a 9-inch springform tub, whisk in melted butter, and push the mixture uniformly into the bottom and halfway up the sides. Set the crust in the fridge to firm up as you prepare the filling.
Step 3:
To make the Pecan Filling, you will need a medium saucepan, combine in the sugar with corn syrup, melted butter, eggs, pecans, and vanilla; bring to a boil over medium-high heat, stirring continuously.
Step 4:
And switch heat to low and continue to mix continuously for 5 to 7 minutes, or until the sauce has thickened. Pour the mixture onto the prepared crust and put it aside.
Step 5:
At this step, heat the oven to 350 degrees Fahrenheit before you start the Cheesecake Filling.
Step 6:
Beat the cream cheese until smooth, then beat in the brown sugar and flour until fluffy.
Step 7:
Then, add in the eggs one at a time, only before mixed after each addition, being careful not to overbeat!!! Pour the cheesecake mixture over the heavy cream and vanilla mixture.
Step 8:
And for the pecan filling, place the springform pan on a baking sheet in the oven and lower the temperature to 325 degrees F. Bake the cake for 60 to 70 minutes, or until a toothpick is inserted in the middle comes out nearly clean. Switch off the oven and leave the cheesecake inside for 1 hour with the oven door locked.
Step 9:
Next, loop a knife along the sides of the cheesecake, but don't remove it from the pan until it's absolutely cool.
Step 10:
Now it's time To make the topping, just melt the butter and brown sugar together in a shallow saucepan. Cook for 3 to 5 minutes, or until really bubbly, then mix in cinnamon, strong whipping cream, and chopped pecans. Bring to room temperature before serving.
Step 11:
And remove the sides of the springform pan and spoon the topping over the cheesecake until it has cooled. To store your cake, it's necessary to keep it refrigerated.