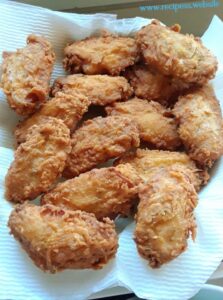 Buttermilk fried chicken wing Flats
2lbs wings Flats
1 cup Buttermilk
2 tbsp hot sauce
2 eggs
1 tsp adobo
1 tbsp garlic powder
1 tbsp onion powder
Wash wings add to a large bowl then add buttermilk, hot sauce adobo,garlic and onion powder with eggs mix well set aside to marinate .for best results leave overnight!
In another bowl add:
2 cups allpurpose flour
2 tbsp cornstarch
Tsp onion powder
1 tsp Garlic powder
1 tsp paprika
1 tsp mrs dash
1 tsp Italian seasoning
1 tsp tyme!
Add them mix well when ready to fry dip marinated wings in batter fry 350 degrees for 6 miniutes per sides.
Enjoy.