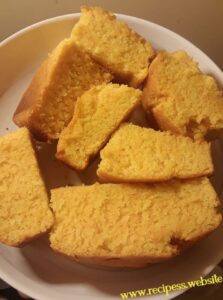 Buttermilk Sweet Potato Cornbread
Soft ,Moist And Delicious
1 CUP all purpose Flour
1 Cup Cornmeal
1 Tbsp Baking Powder
1/4 Cup Sugar( I like sweet cornbread)
1/4 CUP Oil
1 CUP Buttermilk
1 Egg
1and a 1/2 CUP Shreaded sweet potato ( YAMS)
In a bowl add flour, cornmeal baking powder and sugar mix well.
In another bowl add oil,milk and egg mix then add the wet ingredients to the dry .using a big spoon to fold them together.
Dont over mix the batter!
After folding in the wet ingredients with the dry add the 1and a half cup shreaded Sweet potato (Yams) in the same folding motion.
Add to a 9 inch square baking pan bake at 375 30 to 40 miniutes .check IT at the 35 miniutes mark.!!@
Serve warm!
Disclaimer :My caribbean people this recipe cannot be used with our caribbean Sweet potatoes .This recipe was made for the american sweet potatoes known as (YAMS ).
Enjoy.