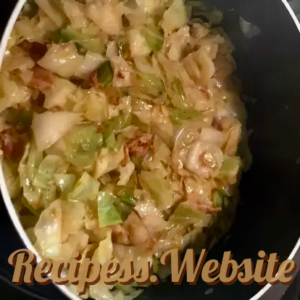 CABBAGE WITH BACON, ONION, AND GARLIC
If you like cabbage and bacon (and who doesn't? ), this is a dish you'll want to make again and again, since it's excellent.
Savory, sweet, and buttery, this Irish-inspired dish for fried cabbage with bacon and onions is sure to be a delight for the whole family.
This is by far my favorite cabbage and bacon recipe – it's very simple, straightforward, and delicious, and it can be made in a single pan – it's also one of the most wonderful meals you can prepare to celebrate St. Patrick's Day – enjoy! This keto cabbage recipe is naturally low in carbohydrates, making it a fantastic alternative for anyone following a keto, low carb, paleo, or gluten-free diet.
INGREDIENTS LIST:
One pound.Of bacon finely chopped bacon
A medium chopped onion.
2 Pounds.Of cabbage, finely diced.
1/4 t spoon.Of red pepper flakes.
2 minced garlic cloves.
1/2 t spoon.Of black pepper.
1 t spoon.Of olive oil.
1/2 t spoon.Of salt.
INSTRUCTIONS:
Step 1 – First, you'll need to fry the bacon until crisp-brown and the fat drains, stirring regularly.
Step 2 – Then, remove the bacon from the pan and place it on paper towels to drain.
Step 3 – After that, you can take a pan and heat the oil over medium heat. Add the chopped onion and minced garlic to the pan and stir until the onion and garlic are transparent.
Step 4 – Now add the cabbage, pepper flakes, and salt to the pan and stir constantly until the cabbage is cooked; if you want it softer, cover the pan with a lid to generate steam.
Step 5 – And to finish, you should add the fried bacon pieces to the skillet at this point, and stir everything together.
NOTES:
– If you want your bacon to stay crunchy, crispy, and wonderful in this dish – while also infusing the dish with plenty of bacon flavor – it's important to crisp it first and then remove it to the side while the cabbage cooks.
– It may be stored in the refrigerator for up to two days and reheated in a hot frying pan, although it is best served immediately after preparation.
If you like this recipe and would want to see more like it, please like and share it with your friends to encourage us to continue sharing simple recipes with you!!!!