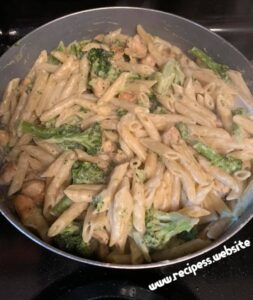 How To Make Cajun Chicken Alfredo With Broccoli:
Shrimp
chicken breast
Cajun seasoning
salt
pepper
garlic
sweet red pepper
penne noodles
shredded Italian & pepper jack cheese
butter
heavy whipping cream and broccoli
Cut up breast season and cook with red peppers.
Steam shrimp I seasoned with old bay.
Steam broccoli and boil noodles.
Sauce heavy cream, Italian and pepper jack cheese once it's melted into a sauce sprinkle pepper and salt for flavor add broccoli noodles chicken and shrimp.
Enjoy.