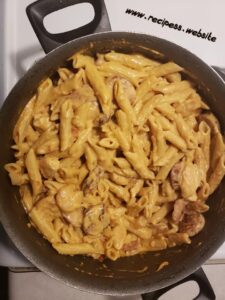 This is what I used:
3 cloves garlic
13 oz. Package of andouille
1 lb of chicken tenderloins or 2 big chicken breast
1 TBS cajun seasoning or less
1 lb penne noodles
2 cups heavy cream
1 cup parmesan cheese
Fresh parsley.
Directions:
Cook your proteins in a pan with some olive oil and the garlic, go ahead and add cajun seasoning.
Add the heavy cream, once the cream starts to bubble, add the cooked penne. Add your cheese and parlsey and serve.
I also added provolone cheese and I garnished with fresh chopped tomatoes.
Feel free to use what ever cajun seasoning you would like, I used Tony chachere's Creole seasoning.
Enjoy.