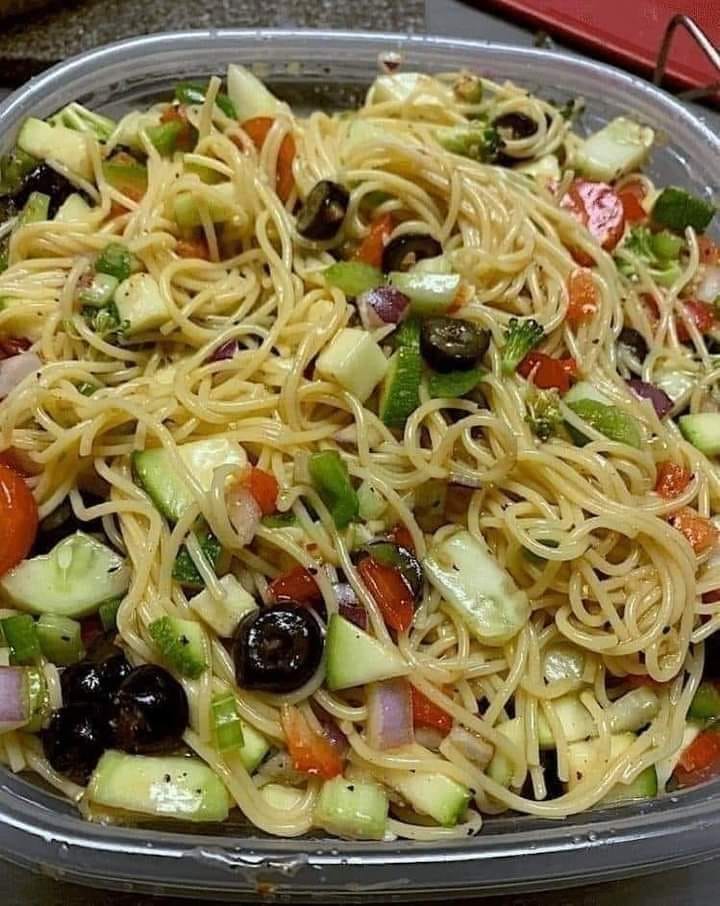 THE INGREDIENTS LIST:
250 grams.Of spaghetti noodles, broken in half.
1 Cup.Of cherry tomatoes, halved.
1 Cup.Of cucumber, diced.
1 Cup.Of bell peppers (assorted colors), diced.
1/2 Cup.Of red onion, finely chopped.
1/2 Cup.Of black olives, sliced.
1/4 Cup.Of fresh parsley, chopped.
1/4 Cup.Of grated Parmesan cheese.
FOR THE DRESSING:
1/4 Cup.Of extra-virgin olive oil.
3 Tbsp.Of red wine vinegar.
2 Tbsp.Of lemon juice.
2 cloves garlic, minced.
1 Tsp.Of Dijon mustard.
1 Tsp.Of dried oregano.
1/2 Tsp.Of salt.
1/4 Tsp.Of black pepper.
PREPARATION:
Step 1
Bring a large pot of salted water to a boil, then cook the spaghetti noodles until they are al dente, following the directions on the box. To cool them down and avoid sticking, drain the cooked noodles and give them a quick rinse under cold water.
Step 2
Chop the cherry tomatoes, cucumber, bell peppers, red onion, and black olives while the spaghetti cooks. Put them in a large basin for mixing. Add grated Parmesan cheese and parsley that have been cut to the bowl.
Step 3
Combine the olive oil, red wine vinegar, lemon juice, chopped garlic, Dijon mustard, dried oregano, salt, and black pepper in a separate bowl. Make sure the dressing is smooth and all the ingredients are well incorporated.
Step 4
Include the spaghetti in the dish of veggies when it has cooled. To uniformly cover the spaghetti and veggies, pour the dressing over the salad and gently mix everything together.
Step 5
To enable the flavors to mingle, cover the spaghetti salad and place it in the refrigerator for at least a couple of hours. This process improves the flavor and guarantees a crisp, well-seasoned salad.
Step 6
Just before serving, toss the salad to combine everything once more. Add more parsley and Parmesan cheese as a garnish for an added touch of flavor and freshness.