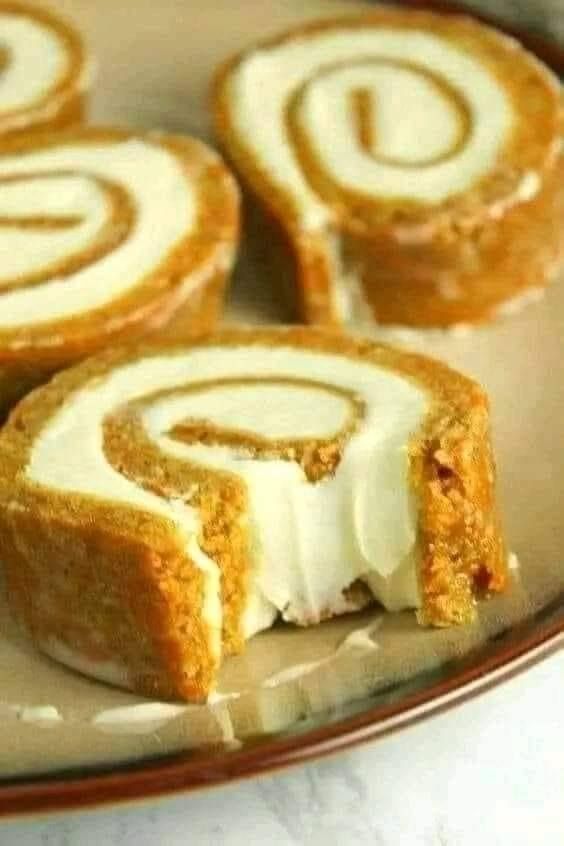 THE INGREDIENTS LIST:
FOR THE CARROT CAKE:
3 large eggs.
2/3 Cup.Of granulated sugar.
2 Tbsp.Of vegetable oil.
1 Tsp.Of vanilla extract.
1/4 Tsp.Of salt.
1 Tsp.Of baking powder.
1 Tsp.Of ground cinnamon.
3/4 Cup.Of all-purpose flour.
2 Cups.Of grated carrots (about 3 medium carrots).
FOR THE CREAM CHEESE FILLING:
8-oz.Of cream cheese, softened (226g).
1/4 Cup.Of unsalted butter, softened.
1 Cup.Of powdered sugar.
1 Tsp.Of vanilla extract.
FOR DUSTING:
Powdered sugar, for dusting
PREPARATION METHOD:
1st Step
Set the oven temperature to 350 degrees Fahrenheit (175 degrees Celsius). Butter and line a jelly roll pan that is 10 by 15 inches. The parchment paper should also be greased and floured.
2nd Step
To make a pale and somewhat thickened egg mixture, whisk the eggs and granulated sugar together in a large mixing dish. The vegetable oil and vanilla essence should be added gradually while mixing.
3rd Step
Separately, combine the all-purpose flour, salt, baking powder, and powdered cinnamon, gradually incorporate the dry ingredients into the wet, stirring constantly BUT Don't over-stir.
4th Step
Carefully incorporate the grated carrots into the batter and mix until they are uniformly dispersed. Spread the batter out on the jelly roll pan, then spread it using a spatula.
5th Step
Put the cake in the oven and bake for 12-15 minutes, or until it is firm and brown. Make a powdered sugar-dusted dish towel while the cake bakes.
6th Step
Turn the cake out onto the cloth while it's still warm. Take away the baking parchment and start rolling the cake in the cloth carefully from one of the shorter sides.
7th Step
Blend the cream cheese, butter, confectioners' sugar, and vanilla extract in a mixing bowl. After letting the cake rest for 20 to 30 minutes, unroll it gently and distribute the cream cheese filling all over it.
8th Step
Carefully re-roll the cake, but don't use the cloth this time. Arrange it on a serving plate, seam side down. The filling needs at least an hour to solidify, so be sure to cover the rolled cake in plastic and chill it before serving. Add the powdered sugar before serving. Cut it up and have some fun!
RECIPE TIPS:
Grate the carrots finely for a smoother texture in the cake.
When rolling the cake, do it while it's still warm to avoid cracking.