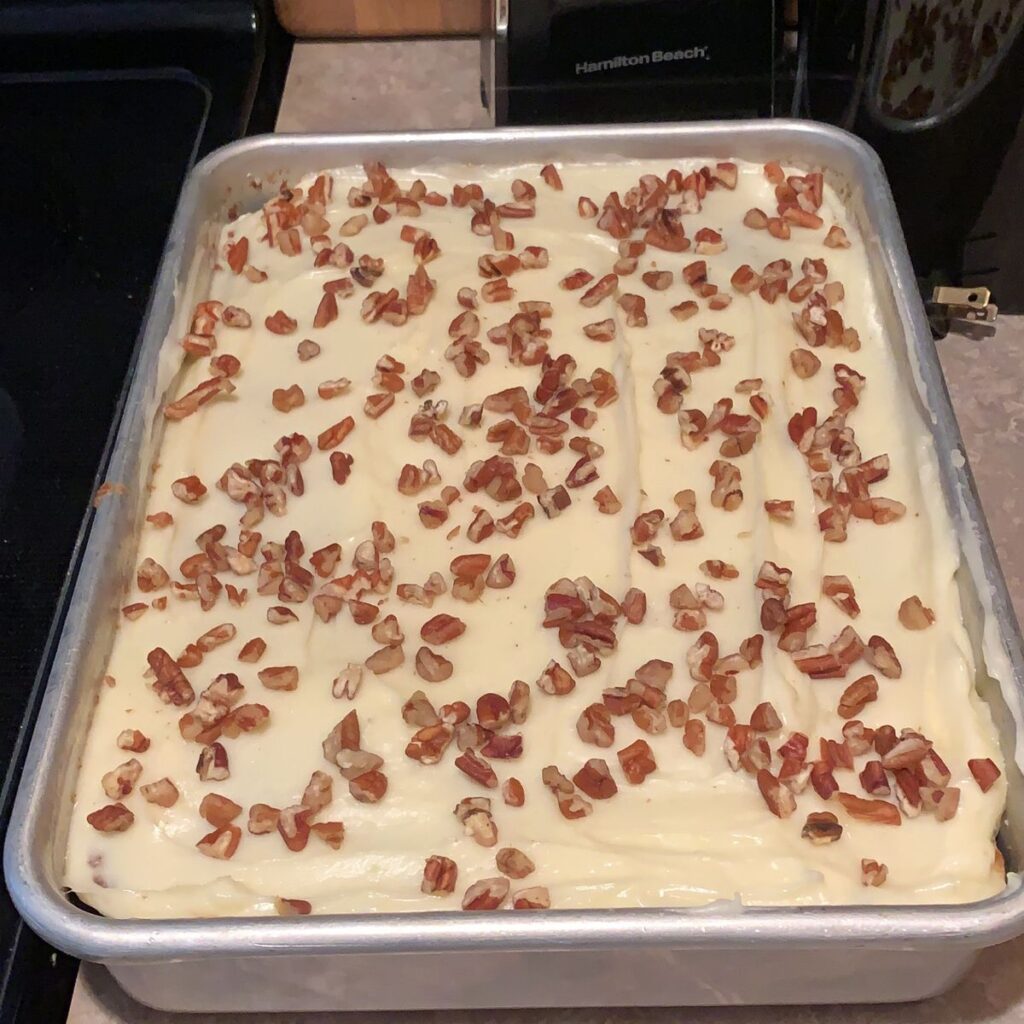 THE INGREDIENTS LIST:
2 Cups.Of all-purpose flour.
2 Cups.Of granulated sugar.
1 Tsp.Of baking powder.
1 Tsp.Of baking soda.
1 Tsp.Of salt.
2 Tsp.Of ground cinnamon.
1/2 Tsp.Of ground nutmeg.
1/2 Tsp.Of ground cloves.
4 large eggs.
1 Cup.Of vegetable oil.
2 Tsp.Of pure vanilla extract.
3 Cups.Of grated carrots (about 4-5 medium carrots).
1 Cup.Of chopped pecans or walnuts (optional).
1 Cup.Of crushed pineapple, drained (optional).
FOR THE CREAM CHEESE FROSTING:
8-oz.Of softened cream cheese.
1/2 Cup.Of unsalted softened butter.
4 Cups.Of powdered sugar.
1 teaspoon pure vanilla extract,
PREPARATION:
1st Step
Heat the oven to 350 degrees Fahrenheit (175 degrees Celsius). Coat with butter and flour a 9-by-13-inch baking dish.
2nd Step
Whisk together the flour, sugar, baking powder, baking soda, salt, cinnamon, nutmeg, and cloves in a large mixing basin. Ensure that the powdered ingredients are distributed evenly.
3rd Step
To the dry ingredients, add the eggs, vegetable oil, and vanilla extract. Combine until thoroughly incorporated.
4th Step
Gently incorporate the grated carrots, distributing them evenly. Add the minced pecans and pulverized pineapple, if using, and distribute them evenly throughout the batter at this point.
5th Step
Spread the mixture evenly in the baking dish that has been prepared. Bake for approximately 40-45 minutes, or until a toothpick inserted into the center of the dish comes out clean.
6th Step
Allow the cake to settle to room temperature before icing. Prepare the cream cheese frosting as it cools. In a separate basin, whisk the cream cheese, butter, powdered sugar, and vanilla extract until velvety and smooth.
7th Step
After the cake has completely chilled, apply the cream cheese frosting on top in an even layer. If desired, use a spatula to create decorative spirals or patterns.
8th Step
Refrigerate the cake for at least one hour before serving for optimal results. This enables the flavors to meld and the buttercream to set gorgeously.
9th Step
Optionally, complete the dish with additional minced almonds or a sprinkling of cinnamon. Cut the cake into large squares and serve with a smile.