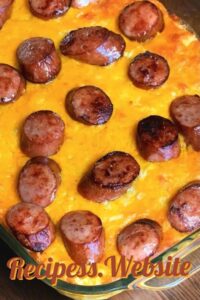 CHEESE POTATO & SMOKED SAUSAGE CASSEROLE
This recipe for Cheesy Sausage and Potato Casserole, which is a home-style dish, is simple and can be cooked in either the oven or the slow cooker. A fantastic lunch for the whole family is made by combining savory and smoked sausage, also known as kielbasa, with lots of delicious potatoes and enough cheddar cheese. The thinly sliced sausage will make almost every bite of potatoes meaty and full of flavors. The cheese, which brings all of the ingredients in this dish together, is what makes it so irresistible.
Last night for dinner, I made this. It was really GOOD!!! My daughter said it tasted like a baked potato with all the fixings. This is a recipe for comfort food that our family likes as a main dish, but it would also be fantastic as a side dish for a holiday potluck or a large holiday feast with the entire family.
HERE IS THE LIST OF ALL INGREDIENTS NEEDED TO MAKE YOUR CHEESY POTATO AND SAUSAGE CASSEROLE:
Boiled and diced potatoes; I used 5 Pounds.
1 Pound.Of smoked sausage; cut it into half-moons preferably.
A Pound.Of Velveeta cheese – diced.
2 Cups.Of whole milk.
½ Cup.Of shredded cheddar cheese.
4 Tbsp.Of softened butter.
4 Tbsp.Of all-purpose flour.
Seasonings: Black pepper, salt, and smoked paprika.
PREPARATION:
1st Step – To start the preparation, you need to bring the temperature in the oven up to 350 degrees.
2nd Step – Next, brown the sausage in a cast iron pan over medium heat for approximately 15 minutes.
3rd Step – At this point, add in the potatoes when they have been cooked, and then set them to the side.
4th Step – Then, melt the butter in a separate saucepan over medium heat, then whisk the flour, salt, and pepper into the melted butter.
5th Step – After that, whisk in the milk and Velveeta until smooth, and then pour the mixture over the meat and potatoes that are in the pan.
6th Step – To finish, you need to bake it for a further 35 to 40 minutes after topping it with cheddar cheese and paprika.
7th Step – Serve it immediately, and enjoy!