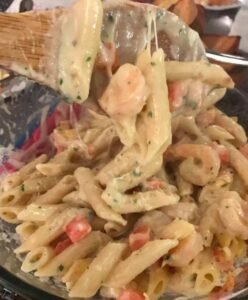 CHEESE SHRIMP PENNE PASTA & SPINACH
Trying to come up with a fast and simple evening meal? This one-pan pasta dish is nutritious and flavorful, and it can be prepared and eaten entirely in one pan. In no time, it'll become a classic in your weeknight dinner routine.
What is one-pan pasta, exactly? Imagine preparing an entire pasta dish and then presenting it to your guests from the same pan! It seems to be too wonderful to be true, doesn't it? But it isn't!
Cooked in a single pan with no need to drain any liquid, perfectly cooked pasta is combined with shrimp, spinach, and garlic in a flavorful sauce.
There is no need to boil a large pot of water, no need to wait for the water to come to a boil before adding the pasta…none of that time-consuming and work stuff!
You can get supper on the table in around 30 minutes if you use this method. You can't go wrong with it.
It all begins with sauteing the garlic in a little olive oil before adding the shrimp, which cooks in no time at all! Toss in the remaining liquid ingredients, pasta, and garlic/shrimp before bringing everything to a boil. Once the liquid has been reduced by around half, it's time to return the shrimp and garlic to the pan for a couple of minutes before tossing in the spinach leaves for a fast wilt.
INGREDIENTS:
Penne Pasta, use one package of 8-ounces.
Peeled and deveined Shrimp, I used one pound.
3 Cups.Of Fresh Chopped Spinach, Arugula or Kale leaves.
1 Cup.Of Swiss or Mozzarella Cheese.
3 minced Garlic cloves.
Seasonings; Salt, black Pepper & Garlic Salt, to ur liking.
2 large spoons.Of Butter
1 large spoon.Of sunflower Oil.
PREPARATION:
Step 1 – To begin, you need to prepare the pasta according to the package directions. Add the shrimp to the pasta water during the last 5 minutes of cooking.
Step 2 – And cook until the meat is no longer pink. Remove everything except 1 cup of water to prepare for the next step. Keep the pasta and shrimp heated.
Step 3 – After that, you need to heat the oil and butter in a skillet over medium heat. When the butter has melted, add the pasta to the pan. Toss everything together. Season to your liking and cook for 2 minutes, stirring often, until the sauce has thickened.
Step 4 – Next, add the spinach and simmer for 1 minute, or until wilted (you may need to add an additional 13 cup of water here to steam/cook the spinach). Finally, add the shrimp and cheese.
Step 5 – Gently stir until the cheese is melted. Don't overcook the food. Season with other spices to taste. Garnish with chopped cilantro, if desired.
ENJOY IT!!!