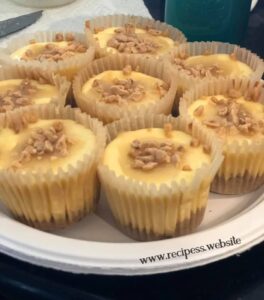 Cheesecake cupcakes with caramel and Heath bits
* Homemade Caramel Sauce:
* ½ cups sugar
* 2 tablespoons light corn syrup
* 3 tablespoons butter
* ⅓ cup heavy cream
You can save in fridge for 4-5 days.
Crust:
1 1/2 cups graham cracker crumbs
1/4 cup butter melted
Cheesecake
16 oz cream cheese 2 packages, room temperature
1 cup granulated sugar
1 cup sour cream or plain Greek yogurt
2 eggs
1 teaspoon vanilla
pinch salt
Instructions:
Preheat oven to 325 degrees F and line two 12 cup muffin pans with paper liners.( I use parchment paper muffin liners)much easier.
In a medium bowl, combine the graham cracker crumbs and melted butter. Divide between liners and press into the bottom firmly. (I sprinkle bits on top)Bake for 10 minutes until dry in the center. Reduce oven temperature to 300 degrees F.
In a large bowl, beat cream cheese with an electric mixer until smooth.
Add the sugar, sour cream, I drizzle a little caramel in, eggs,vanilla, and salt and beat on medium-high speed until smooth, 2-3 minutes.
Divide evenly between muffin cups (they should be about 3/4 full). Bake for 20-23 minutes or until the centers are nearly set.
Remove from the oven and let cool in the pan for 20-30 minutes before removing to a wire rack to cool completely. (I sprinkle Heath before they cool and drizzle caramel on top) Refrigerate for at least 3-4 hours until chilled before serving as desired.
Enjoy.