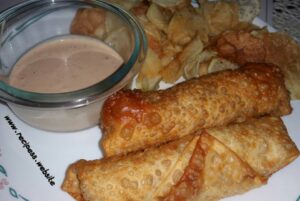 HOW TO MAKE CHEESESTEAK EGGROLLS: 
Ingredient:
Piccolo thin sliced(its steak)
A1 dry rub, and what ever other seasoning
Onion bell peppers
Mozzarella or provolone cheese
Eggrolls wraps
Directions:
Season your meat, sautee it with the top on, add as much bell peppers and onions as you like(I also added some garlic cloves).
When your meat done, I double rolled mines with two eggrolls wraps over lapped triangle, lay the cheese on top, add the meat and throw them in the deep fryer.Drop them slowly.
Enjoy.