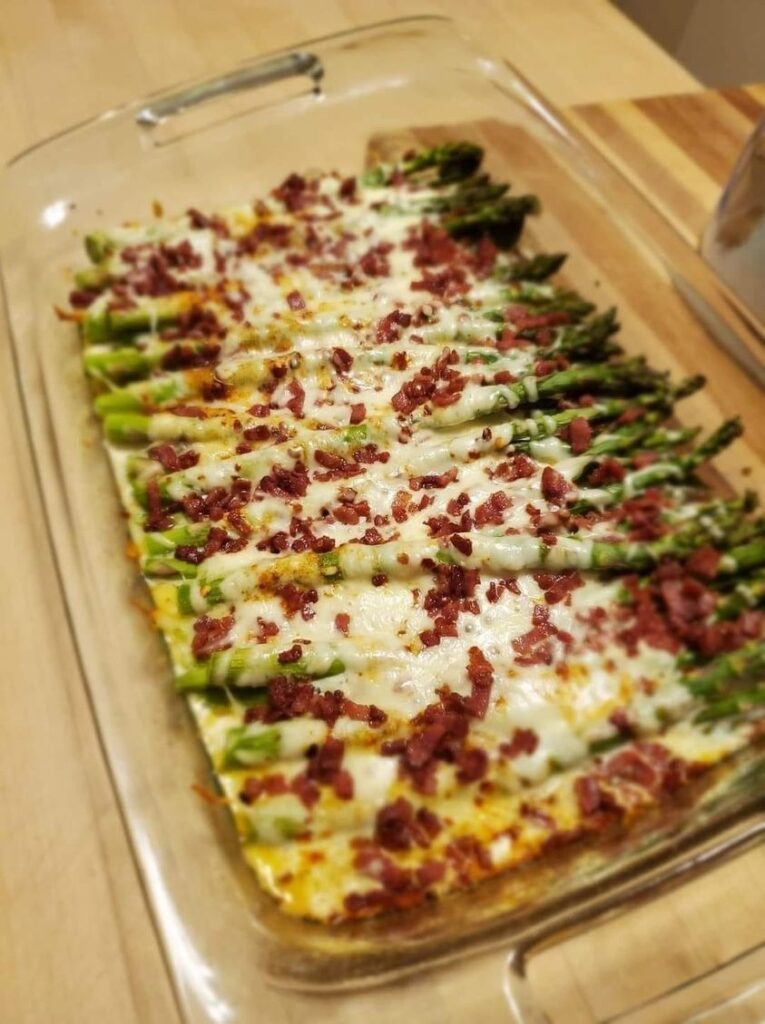 INGREDIENTS NEEDED;
For the Casserole:
2 Lbs.Of fresh asparagus, tough ends trimmed.
2 Cups.Of shredded cheddar cheese (sharp or mild, based on preference).
1 Cup.Of grated Parmesan cheese.
1 Cup.Of mayonnaise.
2 cloves garlic, minced.
1 Tsp.Of lemon zest.
Salt and black pepper to taste.
Cooking spray for greasing the casserole dish.
For the Topping:
1 Cup.Of breadcrumbs (panko or regular).
1/4 Cup.Of melted butter.
1/4 Cup.Of grated Parmesan cheese.
INSTRUCTIONS:
1st Step
Start the cooking process by bringing a big pot of salted water to a boil. Trimmed asparagus should be added and blanched for two to three minutes, or until brilliant green and just soft. To halt the cooking process, quickly move them to a dish of icy water. After that, drain and pat them dry.
2nd Step
Set your oven's temperature to 375°F (190°C). Cooking spray should be used to grease a 9×13-inch (23×33-cm) casserole dish.
3rd Step
Combine the shredded cheddar cheese, the grated Parmesan cheese, the mayonnaise, the minced garlic, the lemon zest, the salt, and the black pepper in a basin that can be used for mixing. Mix each component in the mixture well until smooth.
4th Step
Put half of the blanched asparagus in the bottom of the casserole dish that has been prepared. Over the asparagus, evenly distribute half of the cheese mixture. Repeat with the remaining combination of cheese and asparagus.
5th Step
Combine the breadcrumbs, melted butter, and grated Parmesan cheese in another bowl. Mix the butter and cheese into the breadcrumbs until they are uniformly distributed.
6th Step
Spread the breadcrumb mixture over the top of the casserole in an equal layer to create a crispy and golden coating.
7th Step
Bake the casserole dish in the preheated oven for about 25 to 30 minutes, or until the top is golden brown and the casserole is bubbling.
8th Step
Before serving, take the Cheesy Asparagus Casserole out of the oven and allow it to cool slightly. It tastes finest when it's warm and boiling. As a side dish with roasted meats, or grilled chicken, or as a stand-alone vegetarian pleasure, serve this cheesy asparagus casserole. Your taste senses will definitely be satisfied by the mix of delicate asparagus and the creamy, cheesy topping.