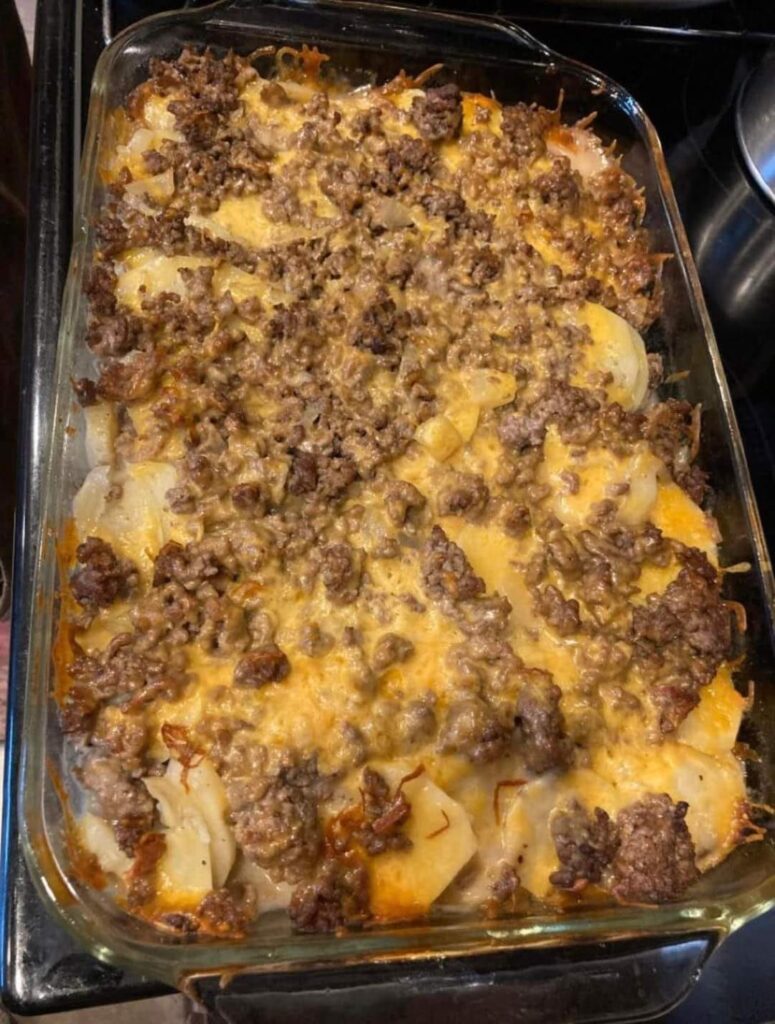 HOW TO MAKE CHEESY HAMBURGER POTATO CASSEROLE
The Cheesy Hamburger Potato Casserole is a meal that is substantial and comforting, and it blends the traditional tastes of ground beef, potatoes, and melted cheese into one delectable casserole. The dish can be found at almost any restaurant that serves American cuisine. This reassuring recipe is ideal for hosting small get-togethers, such as family dinners, potlucks, or intimate get-togethers, since it combines straightforward and healthful ingredients to make a tasty and gratifying dish. In this warm and reassuring dish, you are going to want to be ready to luxuriate in layers of seasoned ground beef, soft potatoes, and ooey-gooey melting cheese.
The soothing and scrumptious Cheesy Hamburger Potato Casserole is a recipe that blends together the traditional tastes of ground beef, potatoes, and melted cheese. This casserole, which has layers of seasoned meat, soft potatoes, and a gooey cheese topping, is sure to delight a large group of people, making it an excellent choice for family dinners or other types of gatherings. The straightforward way of preparation enables you to savor a savory and satisfying supper without having to spend an inordinate amount of time in the kitchen. Enjoy the comforting tastes and cheesy richness that this delectable dish has to offer, and watch as it quickly becomes a favorite in your home.
THE INGREDIENTS LIST:
– 1 pound.Of lean ground beef.
– 1 small finely chopped onion.
– 2 garlic cloves – minced.
– 4 Cups.Of potatoes, peeled and thinly sliced.
– 1 Cup.Of shredded cheddar cheese.
– 1 Cup.Of shredded mozzarella cheese.
– 1 Cup.Of beef broth.
– 1/2 Cup.Of milk.
– 2 Tbsp.Of all-purpose flour.
– 1 Tsp.Of dried thyme.
– 1/2 Tsp.Of paprika.
– 1/2 Tsp.Of salt.
– 1/4 Tsp.Of black pepper.
– Fresh parsley, chopped (for garnish).
INSTRUCTIONS:
1st Step
Heat the oven to 375 degrees Fahrenheit (190 degrees Celsius) and oil a 9×13-inch baking dish with cooking spray or butter.
2nd Step
Cook the minced beef, onion, and garlic in a large skillet over medium heat until the beef is browned and cooked through.
3rd Step
Now, spread 1/2 of the potato slices evenly across the bottom of the greased baking dish.
4th Step
Incorporate the dried thyme, paprika, salt, and black pepper into the prepared minced beef. Stir well to incorporate, then simmer the mixture for an additional 2 to 3 minutes to enable the flavors to combine.
5th Step
Spread the minced beef mixture evenly across the potato layer in the casserole dish. The remaining sliced potatoes are then layered on top of the beef mélange.
6th Step
Whisk together the beef broth, milk, and all-purpose flour in a separate receptacle until thoroughly combined. Pour the mixture evenly over the layered potatoes and ground beef in the casserole dish.
7th Step
Make a thick layer of cheese on top of the casserole by sprinkling grated cheddar cheese and mozzarella cheese.
8th Step
Bake for approximately 45 to 50 minutes, or until the potatoes are tender and the cheese is dissolved and golden brown.
9th Step
Allow the casserole to settle for a few minutes after removing it from the oven. As a garnish, sprinkle fresh minced cilantro on top. Cut into squares or portions as preferred and serve warm.