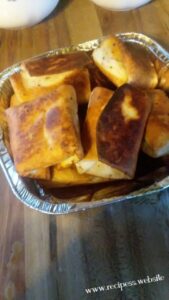 Chicken chimigunas
Shredded chicken
Cilantro cut up
Onion diced
Lime juice from 1 lime
Sour cream to moisten ingredients
Dash of garlic powder
Dash of cayenne pepper
Add some shredded cheese
Mix all ingredients together
Put meat mixture in center tortillas fold over 1 edge fold in sides and fold other edge over the top
Deep fry until golden brown.
EASY AND YUMMY.
Enjoy.