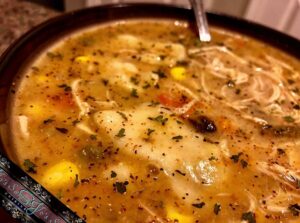 HOW TO MAKE CHICKEN & DUMPLING SOUP
Chicken and dumplings are classic comfort food, and there are literally millions of recipes for them. I make soup out of this recipe, and I add chicken and dumplings to it. This turns the soup into a really "brothy" and extremely tasty dish.
The dish known as chicken and dumpling soup is a combination of two wonderful foods—chicken and dumplings—that, when combined with the finest chicken soup, results in an exceptionally delicious dinner. The dumplings are the highlight of the dish; they have a texture similar to that of clouds and are packed full of flavor. You won't want to miss out on a single dumpling!
To put it simply, these dumplings are delicious. They are neither doughy nor dense in texture, but instead soft and airy. They have a wonderful taste thanks to the butter and chicken broth. Because it is such a fan favorite in our home, my two sons often ask me to prepare it for them. They refer to the dumplings as "pillows" and expect each spoonful to contain one.
FOR THE SOUP, I USED:
2 Tbsp.Of butter/oil.
A finely chopped onion – a large one.
3 large carrots; I sliced them into ¼ inch circles.
3 celery ribs; I sliced into ¼-inch pieces.
Minced garlic – I used 4 cloves.
3 peeled potatoes – diced into small cubes.
2 Tbsp.Of all-purpose flour.
2 sprigs of fresh thyme – minced.
2 Tbsp.Of white wine.
10 Cups.Of chicken broth.
2 Cups.Of cooked chicken.
2 Tbsp.Of fresh parsley and dill – minced.
HERE IS WHAT YOU'LL NEED FOR MAKING THE DUMPLINGS:
1 Cup.Of chicken broth.
6 Tbsp.Of salted butter.
1 Tsp.Of sea salt.
1 Cup.Of all-purpose flour.
4 large beaten eggs.
PREPARATION:
1st Step:
In a saucepan over medium heat, melt 2 tbsp of butter and add onions, carrots, celery, and garlic. Simmer for five to eight minutes, seasoning to taste with salt and pepper, then continuing to cook until soft and well cooked through.
2nd Step:
After stirring in the flour, continue cooking the veggies for approximately a minute, or until the flour has been completely absorbed by the vegetables.
3rd Step:
Stirring with a wooden spoon, add the white wine (if using) and part of the chicken broth to the floured veggies. Quickly, the soup will thicken. After adding the remaining portion of the stock to the soup, bring it up to a boil before lowering the heat to a simmer.
4th Step:
Toss in the potatoes and boil them at a low simmer for about 10 to 15 minutes, covered, depending on their size.
5th Step:
Prepare the dough for the dumplings in the meanwhile. Bring to a boil the broth with butter, and salt. As soon as it comes to a boil, add all of the flour at once and whisk the mixture constantly with a wooden spoon for roughly one minute, or until it begins to come together.
6th Step:
Turn the heat down to a low setting and continue swirling the mixture until it comes together in a ball and is no longer sticky. This should take about three minutes. Transfer to a bowl and let it cool for 3-5 minutes, or use a mixer, until it is no longer steaming. Add the eggs one by one.
7th Step:
Place the dumpling dough in a plastic bag and cut off one corner. Once the potatoes are fully cooked, pump out the dumpling dough and cut it into about 1.5-inch lengths with scissors immediately over the broth, ensuring that the soup is always boiling.
8th Step:
Cook the dumplings, covered, over low heat in a saucepan until they are completely cooked through, which should take around 8 to 10 minutes. Add the chicken and cook for about a minute, until it is well heated. After that, remove the pan from the heat and garnish it with some fresh herbs.
9th Step:
Serve hot. You can keep any leftovers in the refrigerator for three to five days.