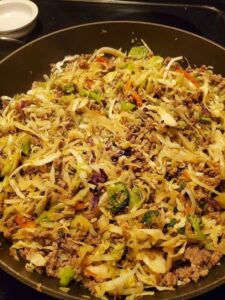 HOW TO MAKE CHICKEN EGG ROLL IN A BOWL
This nutritious egg roll in a bowl is going to be something that you will want to consume daily. This low-carb, high-protein one-pan dish features a deconstructed egg roll prepared with chicken and is the ideal choice for those looking for an alternative to traditional egg rolls. This chicken egg roll in a bowl is ready in approximately 20 minutes, is simple to prepare, is quite inexpensive, and does not include dairy or gluten.
How could I have gone for such a long time without trying the egg roll served in a bowl trend? You know, there are moments when I believe that being a rebel without a real cause isn't doing me any favors, and you know what? This egg roll-like thing is very delicious. I made my own version using chicken, which is both more nutritious and just… well, it's pretty addicting.
You know how there are those foods that, once you start eating them, you simply can't stop? That meal is this chicken egg roll in a bowl, and it just so happens that it's on the healthier side of things.
THE INGREDIENTS LIST:
2 1/2 Cups.Of chopped cabbage.
2/3 Cup.Of grated carrots.
8-oz.Of chopped chicken breast.
1 Tbsp.Of tamari sauce.
1 Cup.Of chopped cauliflower.
2 Tbsp.Of olive oil.
3 Tbsp.Of toasted sesame seeds.
3 minced garlic cloves.
2 chopped scallions.
Crushed red pepper flakes; Optional.
PREPARATION:
Step 1
Prepare the chicken and all the veggies by chopping them (if not ground).
Step 2
As the olive oil (or coconut oil) is heating up in a big skillet set over medium-high heat, sauté the two cloves of garlic for thirty seconds.
Step 3
After that, incorporate the chicken and the cauliflower into the dish. Stir fry everything for three to four minutes (until the chicken is almost ready)
Step 4
Add the cabbage and carrots, then toss in the tamari sauce and the other clove of garlic until everything is well combined. Cook the chicken for a further four to five minutes with the lid on, or until it reaches the desired doneness.
Step 5
You also have the option of adding some turmeric and crushed red pepper flakes to the dish. To serve, sprinkle toasted sesame seeds and chopped scallions over the top.