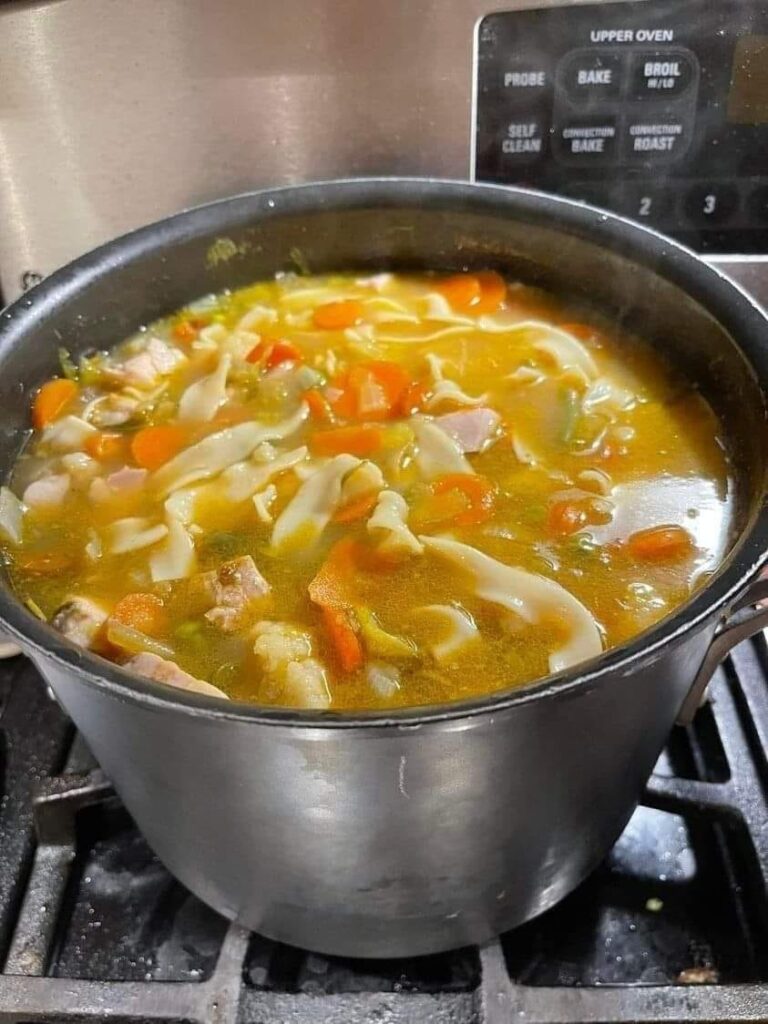 THE INGREDIENTS LIST:
1 Pound.Of boneless, skinless chicken breasts or thighs.
8 Cups.Of chicken broth (store-bought or homemade).
2 Cups.Of carrots – sliced.
2 Cups.Of celery – sliced.
1 large onion – chopped.
3 cloves garlic – minced
2 Cups.Of egg noodles (or any preferred noodle).
1 Tsp.Of dried thyme.
1 Tsp.Of dried rosemary.
Salt and black pepper to taste.
Fresh parsley for garnish (optional).
Lemon wedges for serving (optional).
PREPARATION:
1 – Add the chicken breasts or thighs to a large soup vessel and cover them with chicken broth. Bring to a simmer over moderate heat. Allow the chicken to simmer for 15 to 20 minutes, or until it is no longer raw in the center.
2 – Using utensils, transfer the chicken to a cutting board after removing it from the broth. Allow it to settle slightly, then shred it using two forks into bite-sized portions.
3 – Add the residual chicken broth to the cooking liquid in the saucepan. Add the diced carrots, celery, onion, and garlic.
4 – Stir in the rosemary and dried thyme. season to flavor with salt and pepper. The soup should simmer for approximately 15 to 20 minutes, or until the vegetables are tender.
5 – Add the egg noodles to the simmering broth and cook according to the instructions on the container, which is typically between 6 and 8 minutes. Ensure that they are cooked to your desired doneness.
6- Return the chicken to the saucepan and allow it to reheat for an additional 2 to 3 minutes. If necessary, taste and adjust the seasonings. At this point, you can add additional salt, pepper, or herbs to suit your taste.
7 – Pour the Chicken Noodle Soup into individual basins. Garnish with coriander for a splash of color and added freshness. Serve with a lemon wedge for a zesty, citrusy boost.