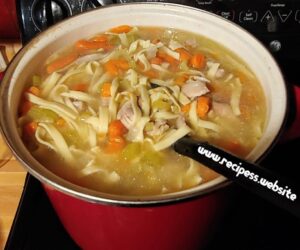 How To Make Chicken Noodle Soup:
I shortcutted my time by using some things that were already cut up I used about 5 lbs of boneless skinless chicken thighs, almost 2 stalks/ bunch of celery, chopped ( I had about a third of one stalk/bunch left so I wrapped them up and put them in the fridge for something else), 2 bags of frozen chopped onions, 4 bags of sliced carrots and one bag of baby carrots.
Fill the pot about halfway w water and I used a 48 oz chicken stock broth also Cook together till the chicken is done. Lots of salt and pepper added throughout the cooking process just make sure not too much is added.
Take the chicken out and I pulled apart w forks into pieces and put back into the pot add more broth or water if needed before you add your noodles. I had a 12 qt stock pot I used.
I added 2 bags of the Amish noodles, gently stir to mix put on low or simmer and it's pretty much done when noodles get soft tastes for seasoning to add more salt and pepper if needed.
ENJOY.