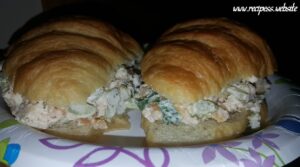 HOW TO MAKE A CHICKEN SALAD SANDWICH?
A traditional chicken salad dish is usually a crowd-pleaser at a picnic, a barbeque, or an office party, regardless of the season. A few simple ingredients may be turned into a cold, creamy salad, or into the filling for a homemade chicken salad sandwich or wrap in minutes!
Maintain a supply of this simple recipe on hand for last-minute sandwich preparation when unexpected invites pop up! This summer meal should be served with a side of Italian pasta dish!!!
Given that this is a traditional chicken salad dish, I've limited the number of additional ingredients to a minimum. Celery adds crunch, while green onions provide flavor to this dish.
The taste and texture of this dish may be enhanced by adding a variety of nuts, vegetables, and fruits into the mix.
Chicken salad with grapes, avocado, or dried cranberries is a favorite of mine, as is chicken salad with feta cheese. Pecans or almonds are a great addition to this dish.
For the Dressing: The mayonnaise that serves as the foundation of this recipe is lightly seasoned, but you may get creative and use ranch dressing or your favorite salad dressing recipe in place of part of the mayo.
INGREDIENTS NEEDED TO MAKE THE CHICKEN SALAD:
Chopped cooked chicken breasts, I used two cups.
Half a Cup.Of mayonnaise.
Chopped stalk celery.
One green onion, I diced it, you can also use chives or red onion.
A small spoon.Of dijon mustard.
Half a small spoon.Of seasoned salt.
Cracked pepper, to taste.
A small spoon.Of fresh dill.
PREPARATION OF THE SANDWICH:
Sliced Tomatoes.
Lettuce leaves.
Any kind of bread will work for this chicken salad sandwich dish; thick pieces of baguette or buns/rolls are particularly suitable.
PREPARATION:
First Step:
The first thing to do is cooking the chicken breasts the way you prefer, and when it's done, let it cool for few minutes and chopped them into small pieces.
Second Step:
After that, and In a small mixing bowl, you need to combine all of the ingredients and thoroughly incorporate them.
Third Step:
Following that, it's Time to Taste and season with salt and pepper to your liking.
Fourth Step:
And last but not least, serve as a sandwich or as a topping for a salad.
Do you have any leftovers?
THE REFRIGERATOR:
If you store the chicken salad in an airtight container, it will keep about one week in the refrigerator. Refresh the taste with a little salt and pepper (or an additional dollop of Dijon mustard) and serve immediately after stirring.
FREEZER:
Chicken salad does not keep well in the freezer. Simply dice the chicken and put it in the freezer to prepare ahead of time. Combining it with the items listed below makes for a fast lunch on the go!