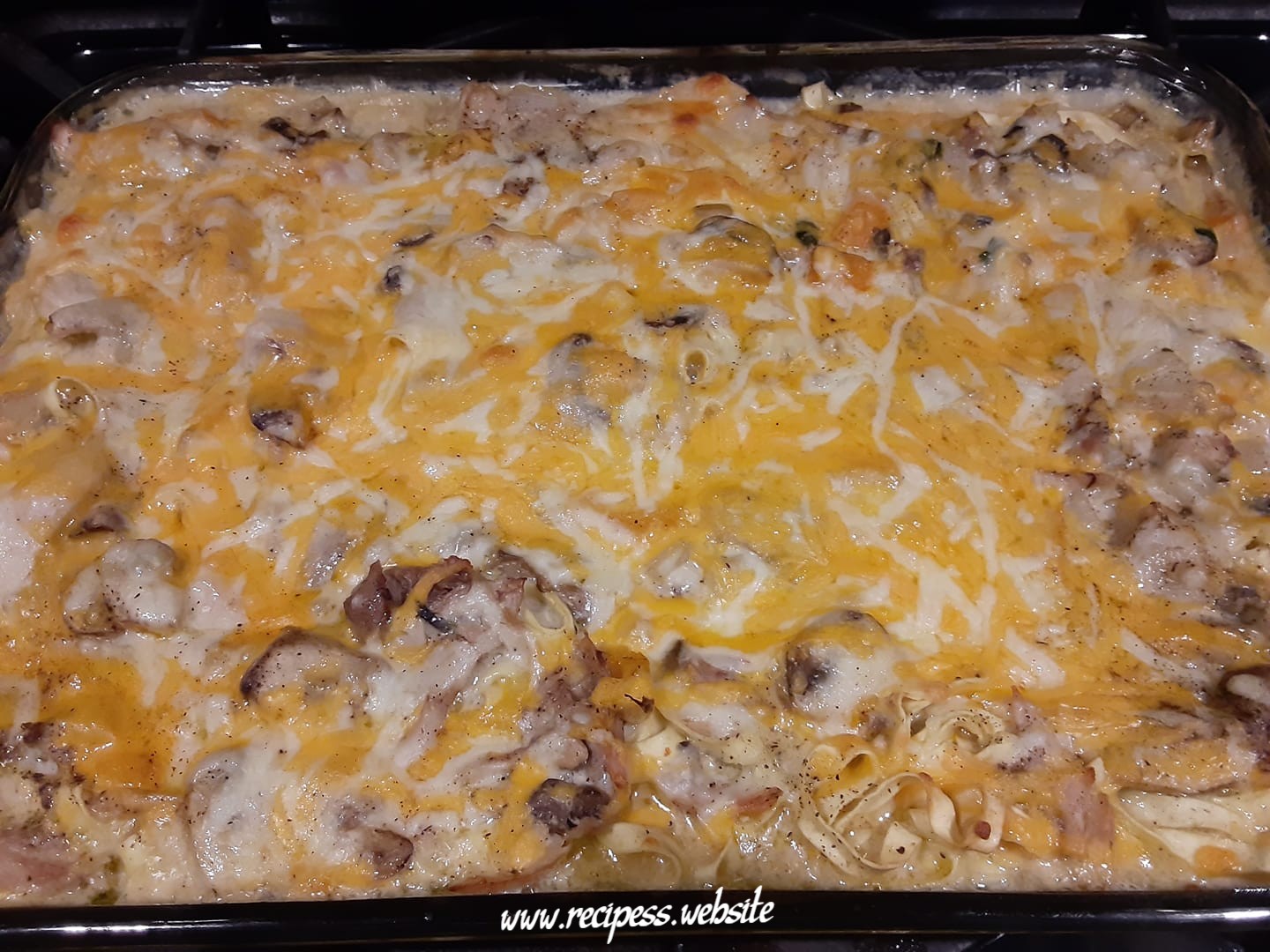 HOW TO MAKE CHICKEN TETRAZZINI?
Tetrazzini is a pasta bake dish with diced chicken, turkey, or even shellfish in a buttery cream sauce. The famous American meal was developed by chef Ernest Arbogast in honor of the Italian opera singer Luisa Tetrazzini, who made her debut at his hotel in San Francisco in the early 1900s and went on to become a household name.
Tetrazzini with Chicken is what we'll be making today. Chicken Tetrazzini made with cream and cheese is a tasty and simple dish that everyone will enjoy! – It's traditional comfort food at its finest, and it makes a wonderful supper for the whole family. Excellent for making ahead of time and freezing as well.
Non-stop family fun, but this dish is also a certain hit when it comes to bringing something to a potluck or for a friend who has recently delivered a baby — she will be thankful!
Is it possible to make Chicken Tetrazzini ahead of time?
Yes! This is a great dinner to prepare ahead of time. Prepare the casserole according to the directions, but instead of baking it, wrap it firmly in aluminum foil and place it in the refrigerator for up to 24 hours. When you're ready to bake, take the pan out of the fridge and increase the baking time by approximately 15 minutes.
How to Freeze Chicken Tetrazzini: Prepare the dish according to the instructions in a freezer-safe casserole dish, wrap it firmly in plastic wrap and then in aluminum foil, and freeze it for up to 2 months at room temperature or frozen. Defrost in the refrigerator overnight before baking as directed.
How to store leftovers: Allow any leftovers to cool fully before storing them in an airtight container in the refrigerator for up to 3 days at room temperature.
INGREDIENTS LIST:
A melted stick.Of butter.
Cream of chicken soup, I used two medium cans
400 grams.Of sour cream.
2 Cups.Of shredded mozzarella cheese.
Half a cup.Of chicken broth or stock.
Half a small spoon.Of salt.
Half a small spoon.Of black or white ground pepper.
4 large chicken breasts, I cooked and chopped them.
Linguini, I used a pkg. Of 16-ounces, cooked according to package directions.
2 large spoons.Of grated parmesan cheese.
PREPARATION:
Step 1:
To begin, prepare the oven to 350 degrees Fahrenheit to preheat.
Step 2:
Secondly, combine the melted butter with the cream of chicken soup, the sour cream, chicken broth, salt, and cracked pepper in a large mixing bowl until well combined.
Step 3:
After that, you can mix in the cooked, chopped chicken until everything is well-combined.
Step 4:
And now, it's time to add in the cooked linguini and stir until everything is well-combined into a smooth sauce.
Step 5:
Pour the pasta and sauce into a glass baking dish about 9×13 inches.
Step 6:
Lay down the shredded mozzarella cheese in an equal layer on top of the casserole, and then top with the grated parmesan cheese.
Step 7:
Bake for 40 minutes at 350 degrees Fahrenheit, or until the cheese is melted and the sauce is bubbling around the sides of the baking dish.
Step 8:
Once done, you need to allow for a little cooling period before serving.
Thank you for trying out this tasty and easy dish – please leave a comment in the section below!