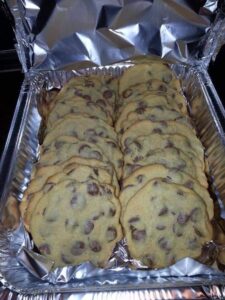 THE INGREDIENTS LIST:
1 Cup.Of unsalted butter, softened.
1 Cup.Of granulated sugar.
1 Cup.Of brown sugar, packed.
2 large eggs.
1 Tsp.Of vanilla extract.
3 Cups.Of all-purpose flour.
1 Tsp.Of baking soda.
1/2 Tsp.Of baking powder.
1/2 Tsp.Of salt.
2 Cups.Of semisweet chocolate chips.
PREPARATION:
1st Step
Prepare your oven by preheating it to 350 degrees Fahrenheit (175 degrees Celsius). And of course you need to prepare the baking sheet with parchment paper.
2nd Step
To make a light and fluffy mixture, put the softened butter, granulated sugar, and brown sugar into a large mixing bowl and cream them together until the mixture is light and fluffy. Add the eggs one at a time, being sure to thoroughly combine the batter after each addition. Stir in the vanilla and mix well.
3rd Step
Whisk together the flour, baking soda, baking powder, and salt in a basin separate from the rest of the ingredients. Mix the dry ingredients until they are almost completely incorporated into the butter and sugar mixture. Add the dry ingredients in stages.
4th Step
Combine the chocolate chips with the dough using a folding motion until they are dispersed throughout the mixture evenly. Place rounded tablespoonfuls of dough onto the baking sheet that has been prepared, being sure to leave some room between each cookie.
5th Step
Bake in an oven that has been warmed for about ten to twelve minutes, or until the edges are a golden brown color. After allowing the cookies to rest for a few minutes on the baking sheet itself, move them to a wire rack to finish cooling for the remaining time.
6th Step
Keep the Chocolate Chip Cookies fresh by storing them in a container that does not allow air to circulate around it.
Chocolate Chip Cookies are a beloved treat, offering the perfect blend of chewy, gooey, and sweet in every bite. Whether shared with friends and family or enjoyed as a solo indulgence, these cookies are sure to bring comfort and delight. Embrace the classic charm of Chocolate Chip Cookies and savor the taste of this timeless favorite.