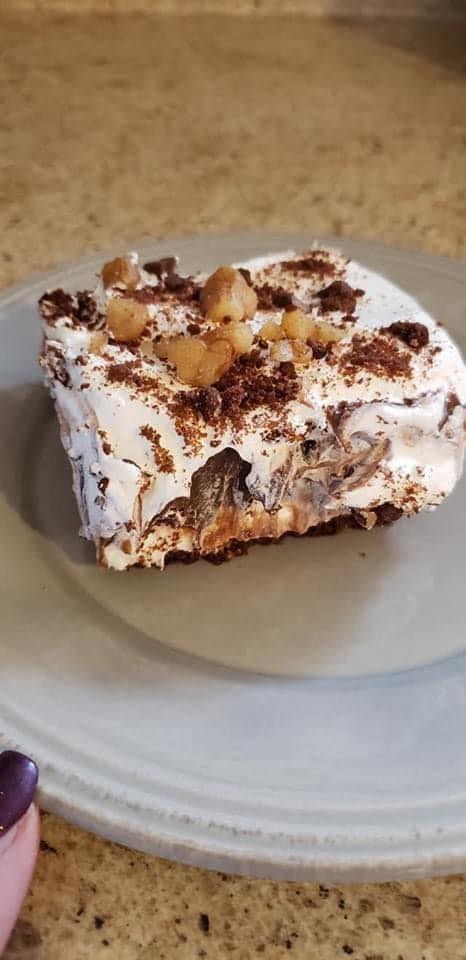 THE INGREDIENTS NEEDED:
1 Cup.Of all-purpose flour.
1/2 Cup.Of unsalted butter, softened.
1 Cup.Of chopped pecans.
1 (8 oz) Pkg.Ofcream cheese softened.
1 Cup.Of powdered sugar.
2 containers.Of whipped topping, thawed (8 oz each).
2 Pkgs.Of instant chocolate pudding mix.
3 Cups.Of whole milk.
Chocolate shavings/cocoa powder for garnish.
INSTRUCTIONS:
1st Step
Mix the all-purpose flour, butter that has been melted, and pecans that have been chopped together in a bowl. Continue to stir until everything is well mixed.
2nd Step
To make the crust, press this mixture onto the bottom of a baking dish that is 9 inches by 13 inches. Check to see that it is distributed equally.
3rd Step
Prepare your oven by preheating it to 350 degrees Fahrenheit (175 degrees Celsius). Put the crust in an oven that has been warmed and bake it for approximately 15 to 20 minutes, or until it is just beginning to turn brown. Please let it cool off.
4th Step
In a separate dish, combine the cream cheese that has been softened with the powdered sugar and whip the mixture until it is smooth and creamy. After the crust has cooled, spread the cream cheese mixture all over it in a uniform layer.
5th Step
Mix the instant chocolate pudding mix and the milk in a separate dish with a whisk until the mixture begins to thicken. Let it rest for a few minutes before proceeding.
6th Step
On top of the layer of cream cheese, spread an equal layer of the chocolate pudding mixture. After the layer of chocolate pudding, proceed to spread a layer of whipped topping over top.
7th Step
Repeat the layers, beginning with the cream cheese mixture, moving on to the chocolate pudding, and finishing with the whipped topping.
8th Step
If you want to add a touch of sophistication to the dish, you may decorate the top with chocolate shavings or a dusting of cocoa powder.
9th Step
Put the dessert in the refrigerator for at least four hours, or until it has become completely cooled and has set. Because of this, the layers can blend together.