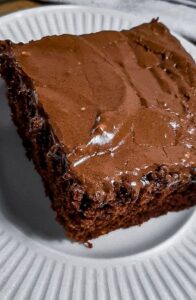 Ingredients:
For the cake:
1.5 cups of all-purpose flour.
One cup of granulated sugar.
1/4 cup of unsweetened cocoa powder.
1/2 tsp of salt.
One tsp of baking soda.
One tsp of pure vanilla extract.
One tsp of white vinegar.
1/3 cup of vegetable oil.
One cup of water.
For frosting:
Two tbsp of butter.
1/4 cup of unsweetened cocoa powder.
One cup of powdered sugar.
One tbsp of milk (or cream).
1/4 tsp of vanilla extract.
Directions:
Step 1
First, in a spacious mixing bowl, blend together the flour, sugar, salt, cocoa powder, and baking soda.
Step 2
After that, in another bowl, combine the vanilla extract, vinegar, vegetable oil, and water, and add the wet mixture to the dry ingredients and stir until thoroughly combined, ensuring there are no lumps in the batter.
Step 3
Next, pour the batter into a greased 8×8 square pan, and bake in a preheated 350-degree Fahrenheit (175 degrees Celsius) oven for 30-35 minutes, or until a toothpick inserted into the center comes out clean.
Step 4
Finally, allow the cake to cool completely before applying the frosting.
How To Make Frosting:
Step 1
To make the frosting, melt the butter in a small saucepan or in the microwave using a microwave-safe dish. Then, stir in the cocoa powder, and this mixture will form a thick paste.
Step 2
Then, transfer the chocolate mixture to a medium-sized mixing bowl, and using a mixer on low speed, gradually add the powdered sugar, milk, and vanilla.
Step 3
After that, once the ingredients are fully incorporated, increase the mixer speed to medium-high and beat for about 5 minutes, or until the frosting becomes smooth and creamy.
Step 4
Finally, spread the smooth and creamy frosting on top of the cooled cake.
Tips:
– Sift flour and cocoa for a smoother texture.
– Grease the pan and use parchment paper to prevent sticking.
– Ensure the cake is fully cool before adding the frosting.
Variations:
– -Replace water with brewed coffee.
– Add for texture.
– Mix in berries, bananas, or cherries.
Enjoy it!!